Taimur Ali Khan's Cute Expressions Will Surely Brighten Up Your Sunday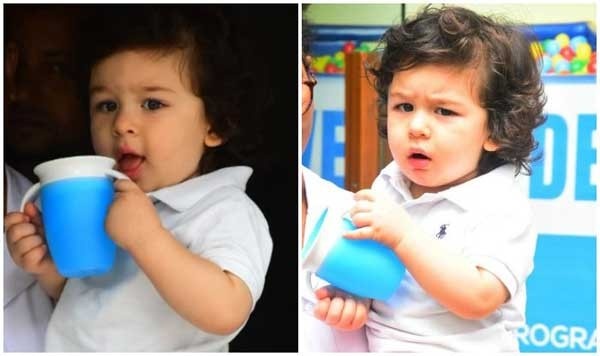 Taimur Ali Khan is, undoubtedly, the favourite star kid in B-town. Kareena Kapoor Khan and Saif Ali Khan's munchkin never ceases on an opportunity to make our day. Time and again, Taimur's adorable pictures take the social media by storm and he did the same once again. Dressed in a white t-shirt and orange shorts, Chote Nawab, who has stolen a million hearts with his cute antics, looked cute as a button as he was spotted outside his playschool with his nanny.
The latest pictures of Taimur are doing the rounds online and, dayum, his cuteness is powerful enough to melt your heart. Taimur's expressions in this latest pictures will surely brighten up your Sunday. Looks like Taimur is in real good mood. Every time, Taimur steps out of the house with his Nanny or Kareena and Saif, the paps never fail to capture every glimpse of the little Nawab. Bebo's munchkin is paparazzi's favourite child, all thanks to his adorable and effortless charm.
Talking about how it is scary that Taimur is showered with so much attention, Kareena had said, "I would like him to do something with his life and then I would like people to appreciate him. He is still very small and he should actually be given a chance rather than having so much of this kind of pressure that is already on him. It is so scary." ALSO READ: Here's What Sonam Kapoor Is Gifting Her Husband-to-be Anand Ahuja On Their Wedding Day
She further added, "As a mother, I am paranoid. Every mother is paranoid about their child. But the more I think about it or think about putting a kala theeka or not send him out of the house, i think that is being over paranoid, so I am just trying to let him have a normal life."