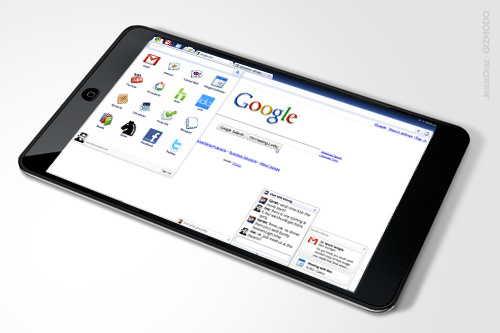 TABLETS IN INDIA
A tablet is a durable and portable personal system equipped with having a touch screen as the basic input device which is designed in such manner which is operated and owned by the individual. Tablets may not have a keyboard found in most of the laptops as there is an alternative with a virtual on screen substitute. Most of the tablets have a wireless adapter for network connection and internet use. There are many tablets available and the tablets price in India varies by Apple, Samsung, Reliance, Lenovo, HCL, Samsung and many more. Out of them Apple is the leading name in tablets market. There are many latest tablets in India, some are a year old while some of them are recently launched. But one fact remains intact that most of the Apple's tablet competitors don't stand a chance. It relentlessly puts out slightly better versions every year, each time remaining just out of reach of the competition. recently it has it has lowers its tablet prices in India and expands its product lineup, making its devices more accessible to a wider audience.
APPLE
Apple tablets are suited for web browsing, Email, Photos, Videos, Music, Games and eBooks. They are features built-in iTunes store, watch YouTube with high-definition playback, TV shows and movies. The latest to hit the shelves is their new iPad. It has been loaded with Wi-Fi, GPS with Google maps, Full Capacitive Touchscreen with Multi-touch. Among the latest tablets in India is the new iPad. It redefines the category Apple created less than two years ago, delivering the most amazing experience people have ever had with technology. The new iPad now has the highest resolution display ever seen on a mobile device with 3.1 million pixels, delivering razor sharp text and unbelievable detail in photos and videos. It features a 'retina' display with 31 million pixels and resolution of 2048 by 1536 pixels. It is powered by Apple's new quad-core A5X processor, which is twice as powerful at handling graphics as its predecessor, the A5, and four times more powerful than Nvidia's Tegra 3 processor. The addition of 4G LTE makes the new iPad slightly larger than the iPad 2, but it is still just 9.4 mm thick and weighs 1.4 pounds.
Apple's pricing has always surprised everyone and the company has taken active steps to offer better pricing in India. Apple tablets price in India are fixed according to the features with which they are built. People have been saying a lot about the high price of Apple tablets price in India. But according to Apple people would always prefer a more expensive but higher-quality product. Following the launch of a new third-generation, 4G-ready tablet, Apple Inc slashing its price worldwide. Their old tablets prices in India have been slashed down.
SAMSUNG
Samsung has given the world a choice. It's not as simple of course as narrowing it down to an iPad vs. a Galaxy Tab. Nearly every phone maker out there has a tablet to offer. But the fact is that whatever size you want and whatever screen you like, Samsung most likely have it. The Galaxy Tab 7.0 Plus is one of the two tablets of the house to use Samsung's very own Exynos chipset – a dual-core ARM Cortex-A9 processor and Mali-400MP graphics. According to the Samsung Galaxy Tab 7.0 Plus review this SoC does quite well in the benchmarks, beating the NVIDIA Tegra2 competitors on almost every count. is the compact class in tablets and you can reasonably expect it to be targeting the budget-conscious. It's worth noting though that the 7.0 Plus has the improved PLS variety of TFT displays. The Samsung Galaxy Tab 7.0 Plus review affirms that it is the entry level option both alive and kicking.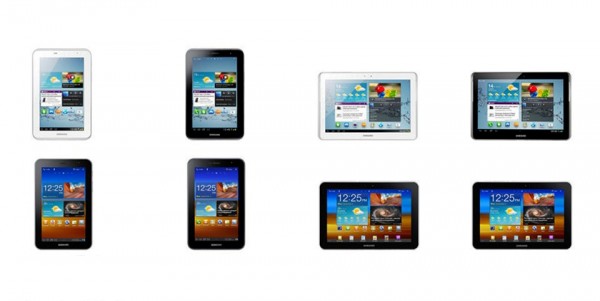 SONY
Sony tablets in India are said to be a handsome tablet with an asymmetrical design bundled with some great applications. So lets hope that this appealing Sony tablets promises to be a distinctive and wannabe device. Sony tablets in India can be bought from their authorizes dealers, retail stores or on-line.
Sony S2 also called as Sony Tablet is one of the most interesting and new tablets in India. It has a dual 5 inch screen, and its folding design makes it stand out from the plethora of other small Android tablets. Sony S2 comes with good hardware specification that includes 512 MB of RAM, 4 GB of internal memory, a Tegra 2 processor and .3 Mp camera. It will also support PlayStation Suite gaming feature. Sony S2 will also support 4G network and Wi-Fi. Hopefully Sony will try to keep the Sony S2 price competitive and attractive to lure the customers to try out this device.
Sony S1 tablet is another tablet ready to get launched in the market. The specification indicates that Sony S1 has 9.4 inch screen with 1280 X 768 resolution. That tablet will come with Android 3.1 Honeycomb and could be updated to Ice Cream Sandwich afterwards. This will have rear 5MP camera and a 3MP front facing camera for video call. Sony S1 will come with a interesting feature called DLNA and infra-red technology that will enable the tablet to flick content to other capable devices and be used as a remote control.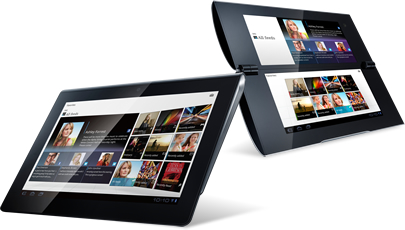 ACCER
The tablet-computer race is heating up. The latest entrant, Acer Iconia Tab A500, is the first to offer compelling competition to other tablets. The Iconia Tab is Acer's first to run Google's Android operating system, and joins an increasingly crowded tablet field. It is the company's first that features a 10.1-inch screen, dual-core Nvidia Tegra 2 processor and front- and rear-facing cameras. is a relatively light, metallic device with a 1 gigahertz, Nvidia dual-core processor, 16 gigabytes of storage, front- and rear-facing cameras, superb sound from Dolby and a high-resolution, 10.1-inch, multi-touch screen. The Acer Iconia Tab A500 runs the new version of Android, Honeycomb 3.0, a more reliable and elegant operating system than the Android system used on last year's tablets.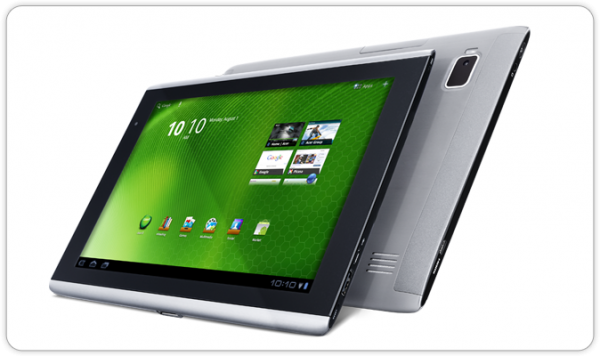 HTC
HTC Corporation was established in 1997 and has its headquarters in Taiwan. It is a Taiwanese manufacturer of smartphones and Tablets. It is one of the fastest growing Mobile Manufacturing company. HTC offers the latest technology Tablets and HTC Tablet price is also affordable.
the best product of the factory of HTC is the HTC flyer                 .
HTC Flyer
The Flyer has a nice brushed-steel body and it tapers at the edge, which makes the device seem even smaller. The Tab, by contrast, has squared off edges.
HTC has built a special tablet version of its Sense UI on top of Android's Gingerbread (2.4) OS. It turns the rather flat-looking Gingerbread interface into a 3D environment with a lot of movement. For example, the weather app shows a beautiful shot of clouds floating by. When scrolling through titles in the Books app, it looks like you're spinning a virtual cube with books on each surface.
HTC reaches back to yesteryears by including a pen stylus with the Flyer. Don't worry, you don't need it to operate the device. The pen is used mainly in the Notes app: you can draw out ideas whiteboard style-and talk while you're doing it-and the app records everything that happens. Or you can just back up the whole thing to Evernote.
You can also use the stylus to make comments on web pages or in e-books, and share them with your friends. Pretty cool.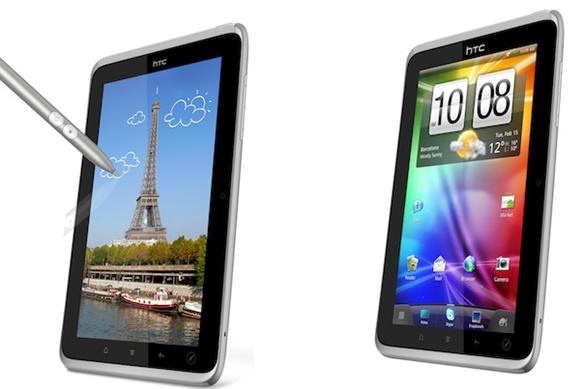 But as more and more Android tablets come out, it's getting harder and harder for tablet makers to differentiate their products from the others in the market. The main differentiating point so far seems to be the size of the device itself–this can only last so long as tablets of all sizes and shapes appeal.
Have a look around and chose wisely according to your comfort.
By Marcelo Azavedo