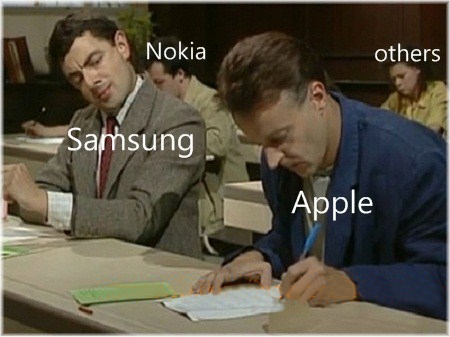 APPLE 1, Samsung 0
Apples victory on Friday 24 August in a patent lawsuit against Samsung could, if upheld, give its rivals a kick in the pants to create more original products.
Whether consumers respond by buying the more distinctive devices is another question entirely.
Consider the case of Windows Phone, Microsoft's operating system for smartphones, which looks almost nothing like the Apple software for iPhones and iPads. Reviews have praised Windows Phone for its fresh, distinctive design, with bold typography and a tile system for using phone functions.
But the phones, including the Lumia 900 from Nokia, have not sold well.
Microsoft's product has not gained traction for a number of possible reasons, among them the big lead its rivals had in the marketplace and the relatively weak distribution of its main partner, Nokia. But the experience shows that any flourishing of innovative products prompted by the Samsung verdict may not translate into success for Apple's rivals.
People across the technology industry have expressed concerns about the future of innovation after a nine-person jury ruled in Apple's favor last week in Federal District Court in San Jose, Calif. The jury said Samsung smartphone and tablet products violated a series of Apple patents protecting a number of designs and functions — including the rectangular shape and rounded edges of thee I phone and the pinch-to-zoom gesture that magnifies an image on Apple devices.
The jury awarded Apple more than $1 billion in damages. A court hearing in the coming weeks could determine whether a judge moves to permanently block the sale of Samsung products that infringe on Apple patents. The verdict could give Apple ever greater challenge in its efforts to discourage other handset companies, like Samsung, that make devices based on Google's Android operating system.
Samsung plans to appeal the verdict.
For Apple and executives at other companies in Silicon Valley that emphasize distinctive design, the verdict was a welcome validation of the effort they put into making and protecting technologies that create original user experiences. "It's good for intellectual property, and good for firms that invest in design," said Chip Lutton Jr., vice president and general counsel of Nest, maker of a smart thermostat.
Mr. Lutton was previously Apple's chief intellectual property officer and was involved in filing the suit against Samsung.
Bill Flora, creative director at a design firm in Seattle called Tectonic, acknowledged both positive and negative feelings about the verdict. On the one hand, it could force mobile companies to focus more on design rather than simply acting as copycats, said Mr. Flora, a former Microsoft designer who played a central role in creating the look of its Windows Phone software.
But he said the decision could also create a "minefield" for product designers, in which they are constantly second-guessing whether functions will step on someone else's patents. Mr. Flora is concerned, for example, that Apple's patent on the pinch-to-zoom function covers a gesture that now is so common that touch screen products without it would be like cars with square or triangular steering wheels.
"It's very much like a circular steering wheel," he said.
Charlie Kindel, another former Microsoft executive who frequently writes about the mobile phone industry on this blog, said the verdict was unlikely to drastically affect Samsung or other handset makers. He said Samsung had already been on a path to revamping its mobile products.
But Mr. Kindel also was concerned about the possibility of the mobile device market becoming increasingly complex. Software developers already have a complicated mix of mobile devices to make apps for, and the pressure on manufacturers to design devices differently could make it even harder. Consumers could be confused over which phones have which apps and functions. It may grow harder to persuade phone users to switch to another system, another roadblock to competition.
"What this means is that the scarcity of mobile developers and the complexity that they face is going to get worse," he said. Research in Motion, maker of the BlackBerry, is already on the ropes, as is Nokia. Palm, one of the industry's pioneers, has disappeared.
Velvin Hogan, the foreman of the jury in the Apple-Samsung case, said in a phone interview on Saturday that the decision should send a "clear message" to the industry that companies that violate intellectual property will have to pay a penalty, like the one Samsung officials face. "They took the risk and it caught up with them," said Mr. Hogan, 67, a retired electrical engineer who holds two issued patents himself and has a third pending.
While Samsung prepares to appeal the billion-dollar penalty, it has a consolation prize. It remains the top manufacturer of smart phones in the world.
By Marcelo Azavedo