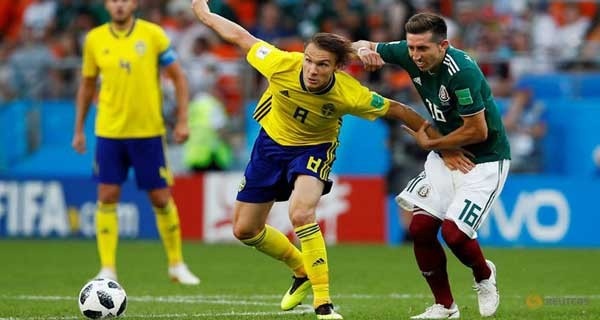 Sweden beat Switzerland 1-0 to march into the World Cup quarters.
It was Forsberg's 65th goal that was the decider eventually.
Switzerland tried till the end but could not breach the stubborn Danish defence.
Sweden enter their first quarters since USA 1994.
With 3 added minutes, Olsson goes for goal but is fouled by Lang, who gets the marching orders.
The ref points to the spot, VAR taken to review the penalty and it's no penalty but the card stands.
The final whistle goes and Sweden go into the quarters.
Switzerland still searching for the goal only to be denied by the stubborn Swedes.
Rodriguez's cross was sweetly headed down by a teammate, only to go into the palms of the the Swedish keeper.
Swedes force a corner on the break but it comes to nought.
Switzerland's late charge well kept off by the Swedes.
They block Rodriguez's shot before Shaquiri floats it over Embolo and outside the touchline.
Sweden do well to keep Embolo off.
Sweden make another change as Lustig comes out and in goes Krafth.
With 10 minutes to go, the Swedes have parked their bus in their own half.
Swedes make a change as the goal-scorer Forsberg is substiituted with Olsson.
Sweden win a corner and Forsberg takes it as it comes to nought.
Sweden do well to keep the Swiss at bay and another corner for the Swiss.
Shaquiri takes it, Embolo gets a touch, blocked out by a Sweden defender to keep the scoreboard unchanged.
Switzerland make double change as Embolo comes in for Zuber and Seferovic comes in for Dzemaili.
Xhaka gets a booking here.
Sweden now have got some confidence after that goal and Ekdal nearly doubles the lead but overcooks it.