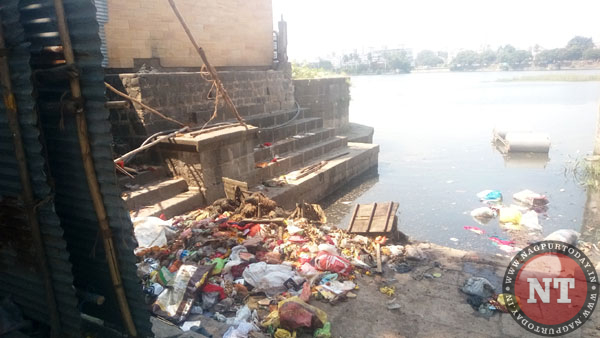 Nagpur: October 2 – a day when a prolong saga of 'The Swachh Bharat Abhiyan' receives a gaiety from people across the nation disguised as a cleaning agents to mark the birth anniversary of Mahatma Gandhi. However a nation-wide campaign of the Modi government's flagship scheme that aims to clean up the streets, roads and infrastructure in cities, smaller towns, and rural areas turns out be a nightmarish illusion in aapla Nagpur.
The CM's city where sanitation worker operates without safety gear, sewage water tends to flow on the busiest routes, festive wastes top the lakes and the piles of garbage can be seen everywhere in Nagpur. Despite the unnerving ground reality, the claim of achieving the tag of 'Swach Bharat' are getting taller and touder by the day.
However this year Ganesh festival, the city witnessed more of the eco-friendly side, as most of the citizens preferred immersion of their deity's idols in artificial tanks, for the betterment of water bodies. The big idols along with nirmalaya were immersed inside the Futala Lake.
As NMC pretended to be busy in Gandhi Jayanti celebration on Tuesday, appealing people to contribute towards Swachh Bharat Campaign, it's claim of cleaning Futala Lake again turned out to be a delusion that resulted in filth around and inside of Futala lake till date.
The immersion was banned in Gandhi Sagar, but when Nagpur Today visited the spot it was shocking to see the half immersed Ganesh idols along with wooden waste and nirmalaya were put on the side of the lake.
Nagpur Today also reported that being the torchbearers of the Swachh Bharat Abhiyan, sanitation workers in the Union Minister and Chief Minister's city operate without any protective gear, put some serious question mark before state government's claim of 'Swach Bharat'.
Along with all those issues, the Lohapul under-bridge still remained the stubborn problem before the NMC. Adding to the woes, the roads are piled up with overflowing drain water, while the garbage tank situated near Lohapul has created new obstacles in front of commuters who travel with this route. The garbage tank located right next to Lohapul bus stop badly stinks with rotten filth. The local shops and hawkers have no problem being in such mess as they have become habitual of this mess however when Nagpur Today approached the commuters who stand there waiting for bus, they narrated their ordeal.
"Being the closest bus stop, I've no other option but to stick with this option. However the foul smell from nearby garbage disposal tank makes it impossible to breath around here. I think the problem is the tank, as the smell continues with or without garbage in the sight", said Jayesh Ahirkar, who owns a private business.
– Shubham Nagdeve