Criminals, Naxals use Hawala money to evolve their syndicates: DCP Gajanan Rajmane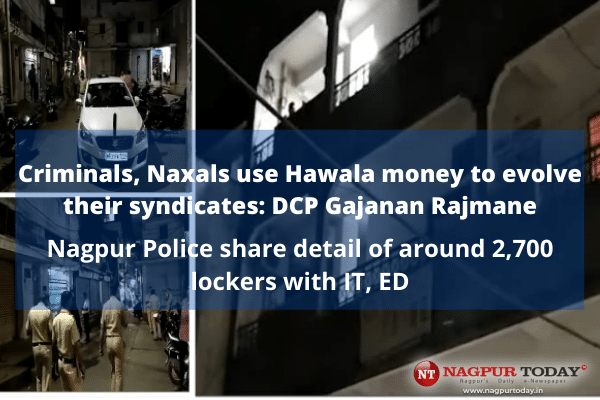 Nagpur: In the recent development of Hawala hub exposed by Deputy Commissioner of Police (DCP) Zone 3, Gajanan Rajmane in the Second Capital of the State, the Nagpur Police have shared the details of around 2,700 lockers with the Income Tax (IT) Department and Enforcement Directorate (ED). While the further probe is underway.
Around 1 Crore unaccounted cash recovered:
It is pertinent to mention that, conducting a surgical strike on Hawala rackets in the city, DCP Rajmane on November 26 raided some properties in Itwari and Lakadganj area. Unaccounted cash worth Rs 84 lakh was seized on this occasion. The Zone 3 Police, later, recovered Rs 12 lakh cash in this connection.
Criminals, Naxals use Hawala money to evolve their syndicates: DCP Rajmane
"In the Hawala transactions, crores of rupees are exchanged in the most fraudulent manner. This dirty game is played based on the serial numbers of currency notes. While the businessmen use this to evade Income Tax and save GST; criminals, naxals on the other hand, use the money fetched by means of Hawala to instill terror in the society by spreading their syndicate," said DCP Gajanan Rajmane.
"Notorious fraud Santosh Ambedkar also used to get benefit of Hawal money with the help of Gujarat based Bajali Firm. Nagpur Police had slapped Maharashtra Control of Organised Crimes Act (MCOCA), against this firm in the past," DCP Rajmane mentioned.
Hawala robs country of process:
While the rules of law are same for everyone, some from the privileged class take undue advances by evading IT and GST. Such stealing of tax robs the country of economic growth, paving ways for health infrastructures, which ultimately affect the underprivileged section of the society, discussed DCP Gajanan Rajmane.
– Shubham Nagdeve