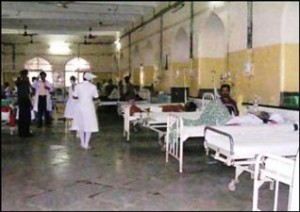 Nagpur News: Angered after the doctors refused to admit a patient due to no beds available for ICU, a gang of around eight youths thrashed two doctors, ward boys and the security guard after ransacking the counter office of the hospital. In the tussle, one of the doctor had fracture on his right hand.
Trouble broke out at Suretech hospital in Dhantoli on Wednesday night around 2 am when a group of around 15 people brought a patient, bleeding profusely, for the treatment and the doctors recommended him to other hospital as they lack beds at ICU.
General Surgeon, Deepak Deshmukh, told Nagpur Today that the patient was very serious and needed immediate treatment at ICU. "ICU was full with patients and we had no space. Thus, we calmly asked them to rush him to another hospital to save the patient but in turn they turn aggressive," said Deshmukh, who suffered fracture after being hit by rod by the youths. Others suffered minor bruises and swelling.
According to the police complaint lodged by Deshmukh, first the relatives argued with the duty doctor, who was present at the hospital when the patient was brought. The duty doctor checked the patient but since the patient was critical, he asked them to rush to other nearby hospital. However, the youths started shouting on him and forced him to admit the patient.
The youths started destroying the property at the hospital and hence the duty doctor immediately informed Deshmuk. By the time Deshmukh reached, the youths had taken the patient to other hospital.
However, few minutes later around eight youths came on bikes and started abusing the doctors and staff.
"It seems that they came back to ransack the office and thrashed us. As soon they entered, they used foul words and vandalized the reception office. Later when interrupted, they thrashed the security guard and ward boys," said Deshmukh.
He added that when he tried to pacify them, the youths in turn hit him with the mop handle and other rod. The duty doctor tried to stop them but was also thrashed.
Seeing the youths turning aggressive and creating tension, one of the hospital staff alerted nearby Dhantoli police. However, by the time the cops reached, the youths fled on their bikes.
The security guard could note down the number of only one bike. Patrolling cops were informed about the bike number but cops failed to nab anyone.
Later, on Deshmukh's complaint lodged on Thursday morning, police has booked the unidentified assaulters under various sections of Indian Penal Code.
Deshmukh said that so far, he doesn't want to add the new law form for the doctor's harassment or for destroying the hospital property. "Cops have booked the youths under relevant sections," he said.
Former National IMA president Ashok Adhao said that since the law is new, even cops are unaware of it and hence not yet implemented.