Nagpur.
The real estate market is gaining some momentum to reap rich festive benefits, as the city newspapers and other advertisement avenues are cluttered with similar such projections. While some call it a wonderful investment opportunity, others are trying to draw the crowd's attention by flashing lowest price offers, discount schemes, festive freebies in the form modular kitchen and not the least, lucky draw offers that boast of hi-end prizes as expensive as luxury cars, two-wheelers, white goods and other electronic appliances.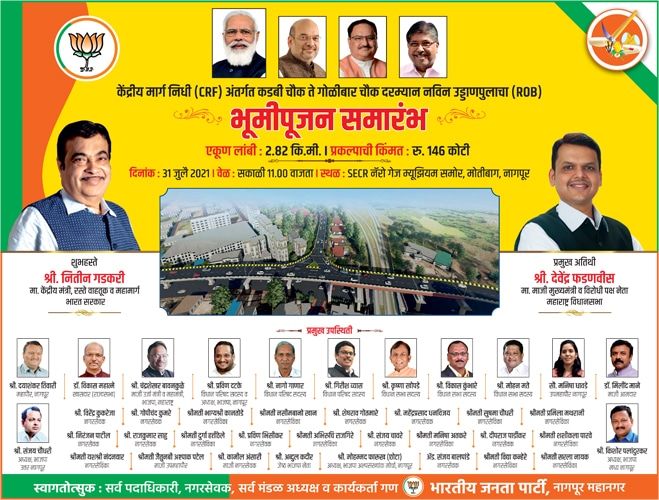 Nagpur Today treads some of the real estate advertisements that are found to be flashing lucky draw goodies so prominently that it gets difficult to make out whether it's apartments' scheme or a showroom of domestic appliances.
But one of the most bizarre hoardings we came across was of Nakshatra Builders and Developers having projects Jaitala and Manish Nagar. The company's hoarding is installed at Gayatri Nagar Square near IT Park and a similar hoarding (in the picture) is also towered at the top of a building just beside Sai Mandir on Wardha road.
A close look at this hoarding may leave you wondering at the kind of projection it is up to. Well, being a group of intellectuals, citizens may not mind such spelling mistakes and so do we.
But guys, honestly, we just can't hold our humour back when we come across this. After looking at this hoarding we have a question to ask…
And the question is – What will you require to buy the house – Lakhs of money, obviously.
But the hoarding seeks more beyond this, just by mere glitch in spellings.
See it is not the lakhs of money but 'lack's' that you want and if you want ready possession flats from this company, forget about it. It rather offers to give you 'Ready Passion' flats.
So if you have 'Lack's' (not lakh, mind it) of money, you still need 'ready passion' to get hold of your dream home.
Confused still!!! So are we…Hold on, till we get another round of confusion from similar such bizarre view.