Nagpur: It's a case of so near yet so far.
For over a decade now, 80% work on construction of almost 100% booked flats/ bungalows is complete in the Sahara City but owners are failing to get possession. They have paid in full; for some of them even their bank loans have been repaid which entailed a drag on their monthly budgets by way of EMIs, yet they have no 'asset' to show against the costly investment! They continue living in rented accommodation, or have been forced to buy other properties else where further blocking up their funds.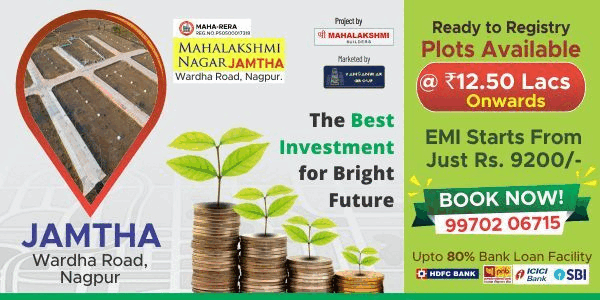 Hopes raised by two consecutive visits of Subrata Roy dashed again
A whole team of Sahara management headed by their chief Subrato Roy, accompanied by his son, was in Nagpur recently. As usual the visit was heralded by full page ads in all local newspapers, allegedly paid for by Sahara's 'adoring employees' – many of whom have not been paid salaries in months!! Not just ads, every important square in the city had huge hoardings welcoming 'Saharashri' as if he was a conquering hero, rather than a convict of the SC out on parole!
An entire stadium was booked in Mankapur, which was again plastered with his photos. Entry was strictly by invitation, press, despite the heavy advertising was kept out. Surprisingly, or may be not so, most disgruntled investors of Sahara city were also not allowed inside by Roy's team of bouncers.
By the time the meet ended and Roy had left Nagpur, there was again no end in sight to the buyers' woes.
1100 Nagpur citizens are sufferers, Rs. 270+ crores invested, does anybody care?
Persons who have invested in this once- prime location and are waiting for possession are not a few, their number touches 1100. Between them, a conservative estimate by their association shows that over Rs. 270 crores are lying invested… with no re assurance of getting possession in the near future.
The irony is that they can see that almost 80% of construction is complete… and over the years of inactivity it is deteriorating. Four towers of the proposed 16 are complete.
But now,tiles are falling off, other damage is happening and they have to watch helplessly. They are pleading for their properties to be handed over in 'as is' condition but no one is listening. Sadly, not even the Apex court of the country where their plea for intervention as interested parties is not being admitted even, forget being heard!
The genesis of Sahara story
If you remember, Sahara City near MIHAN and the new VCA stadium, bang on the Wardha road was among the first mega residential schemes to come up in Nagpur in the new millennium of 2000. Like all Sahara schemes of those years it was heavily advertised in all national and local newspapers. You could not open a paper and not see an ad of Sahara's! They had the entire Indian cricket team in their court. What's more, the most beautiful woman in the world, Aishwarya Rai, who all of India was in love with, was their 'mascot'. Amitabh Bachan was Sahara Shri's closest personal friend, as were Anil Ambani and SP leaders of UP. So how could anyone go wrong with booking a property in Sahara City? Also remember, it was marketed very, very aggressively.
The prevailing rates in those first years between 2005 to 2008 ranged from Rs. 2500/ per square feet to Rs. 4000/.
But to put facts in proper perspective, even this rate was comparatively pretty high compared to Pune, even Mumbai rates!! This journalist had done a survey of 2 BHK flats in prime areas of Mumbai like Andheri, even Lokhandwala complex, and Pune areas like Koregaon park and Salunke Vihar where apartments ( second hand in Mumbai) were available for much less. I had bought a property in Pune, a 2 bedroom large apartment for just Rs. 17 lakhs. While a 2-3 BHK apartment in Sahara City was even then priced at Rs. 30 lakhs.
Prashant Yawalkar, a builder himself had booked a 4 bedroom bungalow priced at Rs. 1.5 crores. (He has already paid over Rs. 60 lakhs for it).
The rates have hypothetically gone up further in the vicinity, specially with the Metro coming up rapidly, but there is no possibility for any of the buyers for re sale and recovering their investments.

The ground reality is that ONLY 80 individuals have got allotments; some of them have been brave enough to shift into their homes, and are fated to live like living ghosts in a dead city!
It is a fact that Nagpur buyers are not the only sufferers, ALL 16 cities throughout the country have incomplete Sahara townships.
But the case in Nagpur is more poignant because work was so near completion. If there was a will to help 'customers' out at any level, be it at the builders or the Nagpur city administration's their problems could be easily solved. Shouldn't the banks who have financed the projects and already collected their money also be responsible to their customers?!But it is not happening. And that is something we in Nagpur are used to, aren't we?
As many unfortunate buyers of First City, the 'official township' inside MIHAN had opined while I was doing their story last year.
"if we had invested in Mumbai or even Thane, Kalyan etc. our investments would have grown over three times in these years… we made the grave 'mistake' of putting our faith in Nagpur and choosing to live here!"
Will this tragedy never end for Nagpur and Nagpurians??
(part one, to be continued)
—Sunita Mudaliar (Executive Editor)