Money in crores at hands for development projects on all fronts still no mentionable achievement. Several flaws in implementing sanctioned schemes even after available of crores of rupees. Something is terribly wrong.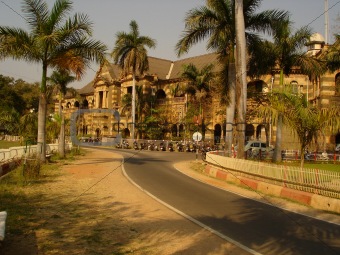 Nagpur News: Nagpur Zilla Parishad, an important Maharashtra Government agency, is generally "never" in the spotlight or headlines except in the school matters.  However, after a scanner, several negative skeletons were found in the "dark rooms" of Zilla Parishad. The reason for not spotting the skeletons, it seems, is no focus by any politician, social activist, RTI activist, and even by media. All think Zilla Parishad is not worth drawing their attention. However, it  is certainly, a wrong notion.
The scanner exposed miniscule development work, no initiating of works by contractors even after having work orders, hollow words of actions against the contractors, lazy babus, only excuses if by chance questioned over work not done, only assurances of enquiry to save the skins, no lashing of concerned officials resulting in development proposals gathering "ice" in cold storages, and other negative "pictures".
The scanner also revealed positive actions, albeit, negative effect. A hot exchange of words between office-bearers (BJP, Shiv Sena, and allies) and Opposition Congress members. The bone of contention issues include health, national drinking water projects, education, cleaning of lakes in rural areas, leak of nursing examination paper, crushing of schemes for adivasi farmers, Gram Panchayats issuing NOCs in illegal layouts, Sarpanchs, Gram Panchayat members misusing their powers etc. There is only hot exchange of words. No hot action to correct the wrong.
The scanner found a relative of invigilator appearing in the examination for nurses and the paper was leaked. The invigilator faced the music and still listening music at home after suspension. When the scanner was focus on health matter the scanner found many health centres but without doctors in almost all centers. A loud cry for appointing doctors must so that deaf and dumb Maharashtra Government could be moved to take necessary steps. Housing complexes under Rajiv Gandhi Housing Scheme have not seen a labour doing any work since past 14-odd months. The dug up ground for foundations now filled up by rain water and no labour to cover the dug up ground and the holes thus inviting a tragedy any time.
The scanner found snail's space in development works. Out of 298 proposed development works undertaken only 91 small and big works completed in the Nagpur district. The other proposed 167 works are in cold storage. Several Zilla Parishad proposalson development works were sanctioned by Maharashtra Government, and subsequently the contractors were handed over the works. But no sign of even starting of the works by the contractors. Something is terribly wrong. (It might be for obvious reasons). Assurances poured in of actions against the contractors and officials concerned. ZP Chief orders punishing actions against the contractors who did start the development works even after awarded with work orders six months ago.Even after Government sanction, money in lakhs and work orders still no beginning of development works in rural areas in Nagpur District.
The situation is grim on all fronts:
1)      No Doctors in Health Centres
2)      No teachers inschools
3)      Bad condition of hundreds of small and big lakes.
4)      Umpteen numbers of National Drinking Water projects in lurching state.
5)      Misusing of powers by Sarpanchs, members of Gram Panchayats, Gram Sevaks. The outcome is cropping up of several illegal colonies and houses.
6)      95 per cent computers in educational institutes are dead.
7)      No trained teachers in schools to run the computers.
8)      Overall education front is in shatters, in shreds, in shambles, and shameful.
The Nagpur Zilla Parishad needs attention. You will find every scam, scandal, corruption, fishy deals, and other ills like in other Government departments, giant business houses, land sharks, land piranhas, mafias of a sort in Nagpur Zilla Parishad, too.