Strong defence needed to combat adverse situation, says GS Saini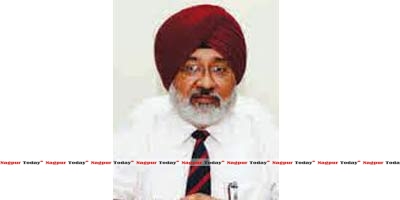 Nagpur: A brave man conquers all hardships to carve a distinct niche. Like a true tough gentleman our today's achiever also took all the hurdles head on and reached the destination where he is today. We have with us Director of National Civil Defence College G S Saini VSM.
In an exclusive interview with Nagpur Today he revealed us his journey of life till date. His childhood was a pretty difficult one. Born in 1960 in a family where his father was working with Air Force in the Technical Division dealing with Radars. He has an elder sister. Being in the Defence services means frequent transfers. While they shifted as a family to some places, in others they did not move with their father (especially when these postings were in North Eastern regions. He studied in Kendriya Vidyalaya (Central School) which is the only school that is ideal for defence personnel with frequent transfers. Often he, his elder sister and his mother remained without the presence of their father for days together.
Hardships during childhood
Apart from the lack of having a father who used to teach him maths and science subjects in his childhood, he also had to shoulder other responsibilities being the sole male member. Whether it is fetching vegetables from the market or getting groceries and others goods from shops, he had to walk nearly 5-6 kilometers one way. The Air Force did have a school bus (truck converted to ferry the school children from all over the defence quarters to the school and back). Often he used to miss the school bus and had to walk 4-5 kilometers to the school and walk back 4-5 kilometers. This walking everywhere was right till he reached his VIII standard. When he was VIIIth Standard, he somehow acquired a cycle.
Strong maternal influence
G S Saini said that his mother was a strong willed lady and played a role of strong motivator. He said that she was a big influence on him in becoming what he is today. Whether it is studies or preparations for other competitive examinations, it was his mother's encouragement and guidance that helped him keep going.
It was that motivation that had made him focus and remain focused in life. He wanted to make his own destiny with sheer hard work.
After his schooling, he joined Government College for Boys in Chandigarh where he completed his Graduation in Commerce (B.Com). In order to make a career in the field of Commerce, he wanted to get a professional training. He then joined a Chartered Accountant and did his Articleship with him. He also registered for taking up Indian Cost and Works Accountants (ICWA). While he was still in his first semester of pursuing his ICWA, he got selected in a Public Sector Undertaking called Chemical India Company. He worked there for 10 months.
Destiny had different plans for him
He applied and passed his Combined Defence Service Examination (CDSE). In 1981, he got a call to go for Services Selection Board. He cleared his SSB. The SSB interview exercise is mainly a series of Psychological Tests which tests the personality of the candidate, to gauge his/her potential as a future Officer in Indian Military. The tests conducted by the SSB aim at selecting individuals with OLQs (Officer Like Qualities). After clearing his SSB G S Saini in Allahabad, he went for training in Ooty (Tamil Nadu). He was commissioned to the Indian Army to serve the Artillery Regiment. Here he got an expertise in handling Explosives, Ammunition, Radar, Sound Ranging Equipments and Meteorological Systems.
After finishing his Short Service Commission, he took discharge and was selected by Union Public Service Commission (UPSC) as Faculty of National Civil Defence College Nagpur in 1989.
G S Saini claimed that he had an interesting incident to share. When he was called for interview for the post of Faculty of National Civil Defence College, he claimed that he did not know head or tail of anything about Civil Defence. He reached Delhi one day prior to the day of interview and landed in the house of one of his relatives who was working with Delhi Government. That relative managed to call a friend who had worked in the Civil Defence department. He came early in the morning and gave a book of 350 pages which was the basic booklet for the trainees of Civil Defence. He read the first chapter which dealt about all the facets of Civil Defence. He went to the Interview with this basic knowledge. When asked about Civil Defence, he practically reproduced everything he had read in the booklet. This has impressed the panel and they asked him, how he knew so much about the Civil Defence? He being a sincere and honest person blurted out the truth that he has just read a booklet a few hours ago. Not only were the panelists impressed by his honesty, they appointed him.
Newer heights
While at National Civil Defence College, he obtained a Masters Degree in Business Management from Nagpur University. He now teaches subjects of Civil Defence like Safety from Explosives, Nuclear / Biological / Chemical Hazard Management and Disaster Response Management. He has assisted his Directorate in preparation of the Organizational structure of a Special Disaster Relief Unit (SDRU) and has himself participated in many deliberations of the High Powered Committee (HPC) on Disaster Management in India. He was nominated by the Government of India to participate in the First Weapons of Mass Destruction (WMD) First Responders Operation Training at Richland, Washington, (USA) in 2002.
He was then promoted as Deputy Director in the year 1997 and having worked hard, he took over the charge of Director of National Civil Defence College in 2003.
G S Saini was called upon to make a presentation on "Threat perception to Parliament House against Weapons of Mass Destruction (WMD) before the Parliament Committee for Security of Parliament House in July 2002.  For his exemplary work, he was awarded with the Director General of Civil Defence Commendation Medal and President's Civil Defence and Home Guard Medal on January 2004.
He was awarded the President's Home Guards Medal and Civil Defence Vishisht Sewa Medal (VSM) on August 15, 2009. He was selected by Ministry of Environment and Forests for training and study tour of Germany to Study "Industrial Disaster Risk Management" practices in various Hazardous Industries in June-July, 2010. He is a visiting faculty in many national training institutions because of his acumen and insight in the subject of civil defence.
By Samuel Gunasekharan