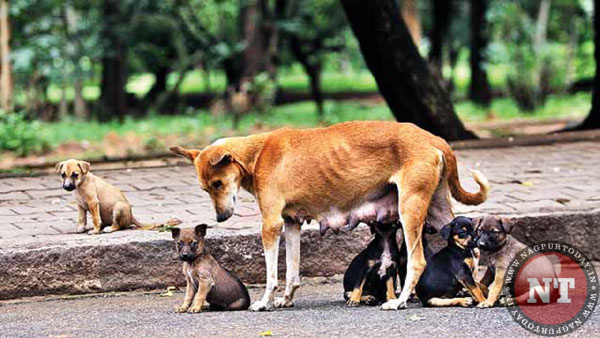 Nagpur: As city observed World Rabies Day on September 28 to mark international awareness campaign against the dreaded disease, the stray dog menace in the Second Capital City of Nagpur reached an alarming proportion.
According to an RTI reply, the stray canines attacked and bit 3,318 persons including women and children during the current year only. In last eight years, the civic body has officially recorded 31,258 cases of dog bites. The exact data could tell a chilling tale.
The dreadful information was provided to RTI activist Abhay Kolarkar to his poser under Right to Information Act. As per record at Health Department of Nagpur Municipal Corporation (NMC), the stray dogs attacked 1,825 males, 848 females and 645 kids in this current year only. In last 8 years, the stray dogs attacked and injured 16,684 males, 7,030 females and 7,544 children. The roaming canines not only attacked these persons but also bit them. The menace of stray dogs is increasing day by day in the city. But the local body has failed to control menacing creatures. The stray dogs were also the cause of many serious road accidents with two-wheeler riders being the majority victims.
The NMC informed in RTI query that city has 18,220 domestic dogs and 75,000 stray dogs. The teams of NMC catch stray dogs after receiving complaints and put them in Animal Shelter, Bhandewadi. The civic body has started sterilisation of dogs in a centre under Animal Birth Control Rules- 2001. However, as against the estimated 75,000 population of stray dogs in Nagpur, the NMC has sterilised only 11,000 dogs so far. In current year, the Health Department had sterilised only 67dogs while 70 dogs were sterilized during last year.
The department had sterilised2,836 dogs in 2015-2016 while 7,424 dogs went under operation table in the year 2014-2015. The snail's pace of sterilisation shows the callous and negligent approach of the local body to handle the menace of stray dogs. The residents of Pratap Nagar, Ajni Chuna Bhatti, Rahate Colony, Ramdaspeth, Dharampeth, Medical Square, Indora and almost entire city is in the grip of the ferocious stray dogs. The gangs of stray dogs lying in ambush and attacking people at almost all localities has become a regular feature.