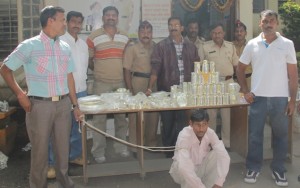 Nagpur Nwes: Ambazari police have raided a house at Ambazari and recovered huge stock of silver articles from there. The silver items were seized from the possession of Sachin Bhaskar Dhomne, 31, resident of Ambazari Tekri road. Sachin has reportedly stolen these articles from a jewellery shop at Gandhi Nagar. Police has arrested Dhomne and a case of theft has been registered against him.
The recovered ornaments also included the valuables of the jeweler fromAmravati. Police sources informed that Sachin has been confining in his house for the past couple of days.
API of Ambazari police station G.K. Wasekar along with other policemen Raju Manekar, Anil Patil, Madhukar Mahajan, Ravindra Barai and Ashish Deore was hunting for some criminals in Ambazari slums, where he spotted Sachin fleeing the spot. Police then laid a siege and caught hold of him.
Acting on the information squeezed out from him, police has raided his house and recovered 54 silver glasses, silver mugs and plates. The articles were reportedly valued at around Rs 4 lakh. However, police stated the value of articles as Rs 1 lakh.
On further interrogation Sachin accepted stealing the items from Silver Simaring Jewellers at Gandhi Nagar. The shop is owned by Swati Pradeep Gharpure. The family of Gharpure was out inAmravatibetween November 7 and November 12, during which period Sachin broke open the shop and decamped with the silver articles. He had reportedly hidden the stolen items in his house. Police has been looking for him for the past couple of days and finally got a tip off to nab him.