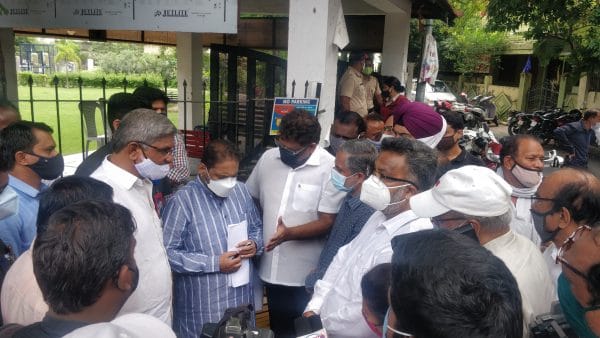 The agitated members of most affected sectors led by Dipen Agrawal convener of Sarkar JagaoVanijyaBachao Sangharsh Samiti (SJVBSS) assembled at the residence of Minister of Power and Guardian Minister for Nagpur District, Dr.Nitin Raut to convey the resentment brewing against the order issued on 2nd August 2021 among the most important but neglectedsegments of the economy.
Dipen Agrawal,voicing the anguish of traders, tourism, education, hospitality and connected sectors due to frequent lockdowns without providing for handholding support andstepmotherly treatment to Nagpur,the second capital of the state. The government has authorised the Local Authorities of Mumbai, Mumbai Suburban and Thane districts to decide and notify the relaxations, whereas government prescribed higher restrictions than level-1 for Nagpur district against sub-zero new cases being reported.
Tejinder Singh Renu, secretary of Sangharsh Samiti, drew attention of Guardian Minister towards the order issued by District Magistrate Akola on 3rd August 2021 wherein he has carved out additional classification between hotels and restaurants and eating houses having bar and permitted them to operate till 8 p.m. Whereas even though Nagpur being better placed regarding case positivity rate the hospitality sector here is permitted to offer dining-in services till 4.00 pm on weekdays.
Jasbir (Micky) Arora of Sangharsh Samiti, informed Power Minister it is gained from media reports that the Guardian Minister of Akola, Bacchu Kadu prevailed upon District Disaster Management Authority (Collector – Akola) and literally forced the authority to relax the operating hours for restaurants having bar. He insisted Nitin Raut to take firm stand and impress upon Collector, Nagpur and Municipal Commissioner, NMC to extend similar relaxation.
Prof. Sameer Phale of Association of Coaching Institutes, informed Dr. Raut that students are safer in coaching classes as compared to their homes, because when they are studying in coaching institute they are bound to and they follow all covid appropriate protocols and prepare for the future. Whereas, after staying at home for longer period they tend to start roaming in random places and risk themselves to Covid-19 virus. Opening up of coaching classes shall help in protecting the students from anticipated 3rd wave, he added.
Dr.Nitin Raut said that he shares the sentiments of citizens and business community of Nagpur and favours resuming of all economic activities in city. He informed that on his insistence Local Authorities has already represented twice to state government to relax working conditions of all commercial activities, however response of government is awaited.He assured that in coming cabinet meeting he will put all his strength for getting the desired relaxation from state government.
Dipen Agrawal expressing his gratitude towards Dr. Nitin Raut for the firm assurance to put his strong foot ahead to bring much awaited relief for the most affected sectors of the economy, said that the state should first announce sector specific relief package before restricting right to earn livelihood of its citizens.
Dipen Agrawal, Tejinder Singh Renu, Micky Arora, Rajeev Jaiswal, Prof. Sameer Phale, Ashish Deshmukh, Khushwant Singh Anand and office bearers and members of associations of most affected sectors were present in large numbers.