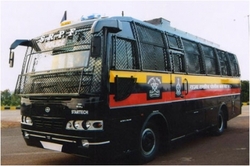 Nagpur News: Irked over sudden transfer, few SRPF constables went on rampage and created ruckus at SRPF office on Friday morning. In the context, MIDC police has booked four constables.
According to the police information, batch no. 13of SRPF were given orders of transferred to Gadhchiroli. However, few constables of the batch no.13 are distributed at Amravati and Nagpur.
Few of them are under training at Amravati and others are undergoing training at Jaitala in Nagpur.
On Thursday evening, during the roll call the senior officers announced the sudden transfer of batch no. 13 and also ordered all the constables to reach Wadsa on Friday evening. The constables were to be given guidance for Gadchiroli at Wadsa.
The constable's complained that the officers have given a short time to reach Wadsa. They claimed that that the officer has not yet meet their many demands but handover the transfer order. Hence, the injustice done to them angered the constables who then pelted stones and damaged the furniture of the office.
MIDC police has booked four SRPF constables for creating ruckus. Later, on Friday night the senior officer took a meeting with the constables and extended the time to reach Wadsa. The officers also assured to fulfil their demands of their dwelling and other in short period.