Spice Garden Restaurant: Adding spice to food-filled family moments!

Delectable has been the buzzword both among the exotic cuisine lovers and passionate food enthusiasts in Nagpur. While the foodies always crave for the taste, and keep exploring new food spots in the city, the restro fraternity too has evolved a lot and the latest to tempt the taste lovers is yet another themed food joint – Spice Garden Restaurant. This food property holds the promise of serving and experimenting with the taste of choice.
Culinary Delights @ Spice Garden
Paneer Kurkure Kabab (left) and Paneer Pallu Kabab have become hit among the starters served at Spice Garden.
While the place lends soothing atmosphere, it also ensures desired taste is served with the dishes across the platter. Rakhi informed, "we have Spice Garden special veg as the most loved veg cuisine as it has two layers of gravy along with mild taste of paneer and selected vegetables. Then we have paneer pallu kabab and chicken pallu kabab which has now become our signature dishes. Veg angara and chicken angara are another loved dishes here. We also serve specialties in prawns."
The prawns are served on weekends and also on demand. Other dish on demand at Spice Garden are.
Enchiladas
Assortment of Corn flour, paneer, chicken, mushroom and looaded with cheese and greens.
Tacos
Refried beans, fresh veggies, cheese, sour cream stuffed together into flour spread to make tempting.
Feel of Ambience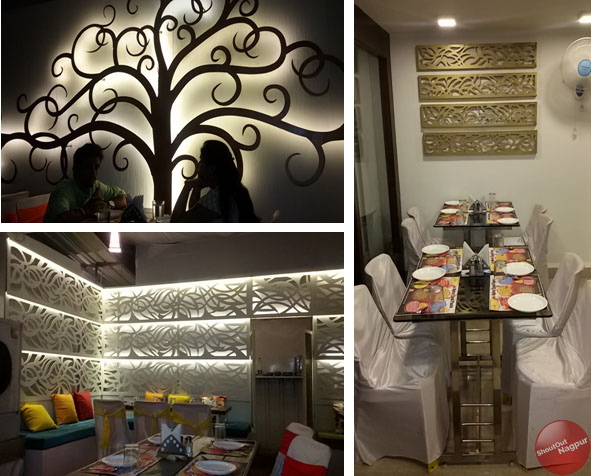 Soaked in pearl white backdrop laced with the leafy cut designs, the ambience resembles a sober wedding venue, thanks to the wonderful lighting and table arrangements. The tables are topped with mats that spread humor filled graffiti all over. Do not forget to turn the mat once you read it one side, till the time your order is being prepared. You can also enjoy free wifi at his place.
Spice Garden is located on Wardha Road between Somalwada Square and Hotel Pride and remains open from 7 pm to 11 pm everyday. The resturant is being run by one of the good time food connoisseurs of the city – Rakhi Ashar supported by her husband Randhir.
Address:
Spice Garden Wardha Road between Somalwada Square and Hotel Pride, Nagpur.