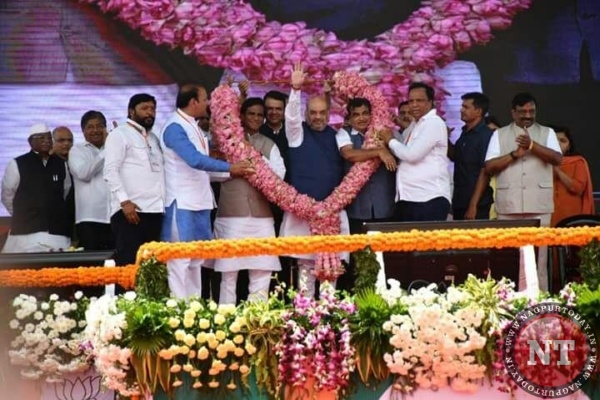 Mumbai: The party's main leaders spoke in a rally in Mumbai during the 38th raising day of the BJP. Of these, a clip of Union Minister of Land and Transport Nitin Gadkari is currently being viral on social media.
Nitin Gadkari replied to the criticism of MNS chief Raj Thackeray in yesterday's speech. He told us how much work we have done on Shivaji Park. After this, Gadkari started telling the statistics of funds provided for development work in Maharashtra by his department. But they were telling all this information in Hindi. At that time, Mumbai BJP President Ashish Shelar, who was present at the forum, approached and told Gadkari to 'tell in Marathi' numbers. In particular, Gadkari started speaking the next word in Marathi. Nitin Gadkari did all this very cleverly and cleverly and many people in front of it did not realize this fact. However, the fact that the Chief Minister, Devendra Fadnavis, was told a lot of humor.
MNS president Raj Thackeray had raucously criticized Nitin Gadkari at the Gudi Padva Melawa. Gadkari walks in promises programs and promises. Like a child, they walk around the foam and tubes of soap. Everywhere, one lakh crores, two lakh crores flying bubbles. However, where did the government have enough funds to take all these projects? After Raj's statement, audiences also ridiculed Gadkari for saying 'Fu SS Fu SS Fu'.