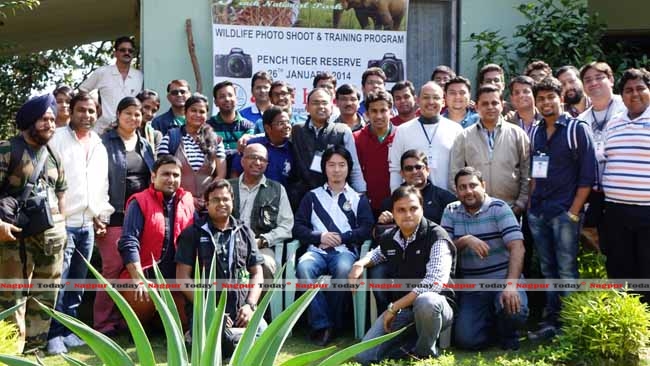 Nagpur News:  Altaf H Vali, Sony's Alpha Flagship Store (AFS) and Sony India Pvt Ltd., jointly conducted a training camp cum photo shoot at Pench Tiger Reserve, Seoni, M.P. This camp was specially designed for Sony Alpha SLT users as well as photo enthusiasts. Altaf H Vali frequently conducts such training camps, in order to educate the customers so that they can effectively use the various features of the professional cameras.
It was a one day camp, attended by 50 participants and special invitees. The main session was conducted by Sameer Ashraf, D-SLT Pro Specialist, Sony India. Ashraf is a versatile photographer and has worked for prestigious organizations like The London Telegraph, National Geographic, Etc. In the 2 hour long training session, he explained about the Translucent Technology and how it helps the user to capture better and quicker images. He also emphasized on the use various manual modes the cameras has and which mode is suitable to what kind of lighting conditions.
Chandrakant Kamath, Celebrity Photographer who has loads of experience in the photography field displayed some of his prize winning pictures and discussed the skills required for capturing them. In the user interactive session, everything from Wildlife, function, scenery, indoor photography was discussed. After the theoretical training session, the participants were taken for the Jungle ride, where they could put into practice various modes of photography and have hands on with the various demo lenses provided by Sony India.
Sony has developed a vast range of mirrorless cameras to suit every purpose. It includes the A-Mount, E-Mount, ILCE & RX series cameras. Recently Sony has launched the Combo offer with Alpha A58 with two lenses (18-55mm & 55-200mm) priced attractively at Rs.43,990/-.
Prominently present were Maasaki Hori, Head, Camera Division, Sony India, Kamal Sanghvi, Branch manager, Sony India, Nagpur Branch, Adnan Vali & Altaf Vali  Directors of M/s Altaf H Vali Electronics Pvt. Ltd., special invitees Dr. Prakash Zhawar and Anoop Singh Virdi.