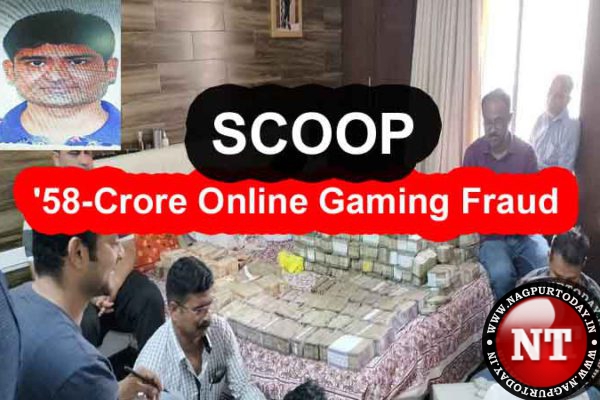 Nagpur: The '58-Crore Online Gaming Fraud' case continues to be a cause of concern for both law enforcement and local residents, with new and startling revelations emerging.
According to reliable sources, after failing to 'resolve the case' by attempting to use a Narcotics Control Bureau (NCB) official and his lawyer to exert influence over both the Nagpur Crime Branch and the victim, the perpetrator, Ananth alias Sontu Navratan Jain, is now merely trying to fill the hours under the guise of cooperation with the ongoing investigation. He is also eagerly awaiting the transfer of key Nagpur Police officials overseeing the probe, though his previous attempts to sway them have proved futile.
"Jain is anxiously anticipating the reassignment of senior police officials. Following his unsuccessful attempt to involve an NCB official in influencing the Nagpur Crime Branch, Jain even sought to exert pressure on the victim through his legal representation. However, with no relief in sight, he is simply biding his time, purporting to cooperate with the investigation, while awaiting the transfers of the senior officials connected to the probe," disclosed senior sources within the Nagpur Police to Nagpur Today, on the condition of anonymity.
"Whenever money is involved, politics, power, and pressure inevitably take center stage," added the sources.
It may be mentioned that previously, a Superintendent of Police (SP) rank officer from Nagpur was transferred due to the influence and collaboration of local politicians and criminals.
It is worth noting that Nagpur Police are in the process of filing an affidavit in court seeking Jain's custody, as he has not been forthcoming in his cooperation with the investigations. Jain's entire family remains in hiding. The police are relying solely on technical evidence, and due to Jain's lack of cooperation, the pace of the investigation has been adversely affected. Nevertheless, the Nagpur Police are determined to apprehend Jain's illicit activities. Consequently, he is attempting to stall and opting to await the reassignment of the involved officers.
It may be recalled call that the '58-Crore Online Gaming Fraud' first came to light when Nagpur Police conducted a raid on Jain's Gondia residence on July 22 of this year. They seized Rs 17 Crore in cash, 14 kg of gold, and 294 kg of silver, with a combined worth of Rs 27 Crore.
On August 2, an additional Rs 85 Lakh in cash and gold worth over Rs 4.5 Crore were discovered in the bank lockers of Jain and his family members. Officials have stated that this substantial wealth was amassed by Jain through the online gaming fraud, victimizing several individuals. The investigation into this online gaming fraud case commenced when a Nagpur-based businessman approached the police, claiming to have been swindled of Rs 58 crore by Jain's gaming platform.
– Shubham Nagdeve