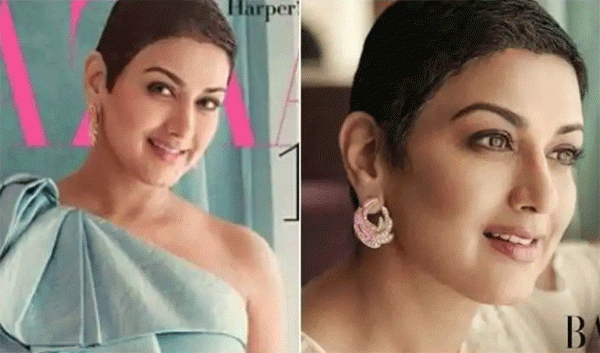 The bold and beautiful actress Sonali Bendre stunned all in a recent feature on the cover of a magazine. Sonali, who was diagnosed with high-grade metastatic cancer, has now recovered and is back to work. The 90s actress is a true survivor.
At the age of 43, she has a positive outlook on life and has decided to embrace cancer as a single chapter of life. The Sarforosh actress has always updated about her health via photo-sharing app 'Instagram'. Recently, she took to Instagram to share a magazine photoshoot where she looks hot and happening in one shoulder dress by Tisharth by Shivani.
Sonali's beautiful post has an amazing caption, "There's no one way to tell how our experiences change us or shape us. Not all transformations are visible, but they will always leave an impact. What I've learnt is to never let it hold me back. I would rather dress up and show up! That's how I would describe my day, shooting for the @bazaarindia cover. Had a great time talking to you, @sanjuktasharma; thank you! I love the pictures, @tarun_khiwal! Thank you @mickeycontractor for working your magic on me. @nonitakalra, this is special – thank you!😊".
Harper's April issue has quoted Sonali, "When I shaved my hair, my friends asked me to keep it, maybe make my own wig out of it, but I wanted the old hair to go, it was not mine. I wanted to let go. I think I hid a lot under my long hair".
In March, Sonali Bendre featured on the cover of Vogue magazine and described her look – an almost bald head and a scar from the surgery – as her "new normal." She said, "If there's a piece of advice I can give you all after this, it would be to 'Find your new normal'. It's very liberating."