Nagpur: Actress Soha Ali Khan and producer Vibha Khosla were in the city to promote their latest Hindi film "Chaarfutiya Chhokare". Before answering to the questions of the media, Soha related a gist of the story "Chaarfutiya Chhokare". She said that she plays the role of an NRI named Neha who goes to a village in Bihar with an intention to start a school. However, in the process, she comes face to face with the ugly social evil of child abuse and child trafficking. She faces many opposition to her target and is also physically man-handled by a group of gangsters. She persists in her fight against the negative forces. However, she added that this is a commercial film and has Drama, Suspense, Thrill, Music etc.
Asked about the significance of the film's story whether it would resemble the real life or just a fiction, Soha replied that this story is totally fictitious but hastened to add that such incidents of child abuse and trafficking go on in the north India in real life. "It was emotional transportation into another world while performing the role as an actress," Soha commented on the query on her experience while enacting the role. She further said that she accepted to play the role only after she went through the script the Director had brought to her for her perusal. The story revolves around a village called Birwa in Bihar, added the actress.
Soha Ali Khan talked great when asked to comment on her co-stars and was delighted for having a wonderful time performing a role with reputed actress Seema Biswas, Zakir Hussein and the three small boys. "The experience was an enjoyable one since it is an Author-backed role and I was totally engrossed into it as I play an emotional character which is my liking," asserted Soha. Responding to a question on recent successes of the women-centric movies that are drawing rave reviews, Soha cleared her stand and said that the status of women is changing nowadays, of course for a better. However, she added that according to her, the best period for women's role in Indian films was between 1950 and 1960 when movies like "Guide" were immensely successful. The movie revolutionized the way society looked at women. The movie had depicted that women too have needs and can make decisions. "In recent times, women-centric movies have done exceptionally good at Box Office. However, success depends on lot of other factors. I am happy that today, actresses too have become role models for the youngsters."

When asked why people don't get to see her often on the silver screen, Soha Ali Khan replied that she does one or two good movies every year since she believes in quality and not quantity. She also added that she has several other things to do besides being an actress. While replying to another query about her injury while shooting the film, she said that she got her hands and legs bruised while shooting the scene where the gangsters attack and manhandle her.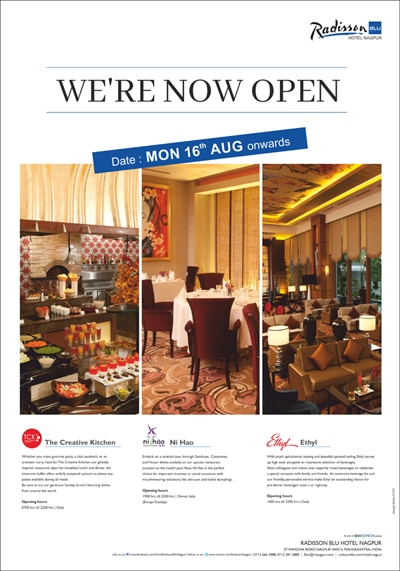 Replying on the soul of the movie – the songs – Soha said that there are 3 good songs and that one of the songs was sung by the Producer Vibha Khosla herself. The number is a song written by Guru Rabindra Nath Tagore and the lyrics is "Vidhya Ki Paras Main…."
Talking about her plan to get married, Soha proudly displayed her engagement ring and quipped that she has got engaged with Kunal Khemu and both are in no hurry to get married so soon. Further talking on the film, she said that the entire shooting was done in Kolhapur and not in Bihar as portrayed.

* Nagpur Today asked if she had learned that particular Bihari dialect, she replied that since she plays the role of an NRI coming from USA, she did not have to learn the lingo but the boys in the movie do speak a particular dialect.
* While explaining about the role assayed by the three small boys, Producer of the movie Vibha Khosla said that all the three boys have had previous experience with acting in movies and related the story of one particular boy named Harsh (real-life name). The other two boys are Shankar and Aditya.
* Nagpur Today asked Soha Ali Khan, what it is to be a Princess, she replied, that which girl wouldn't like to be one. However she said that after independence everyone is equal. But she added that she enjoys the Security provided by the lineage. She claimed that she does possess some wonderful cloths, Palace, etc. She claimed to be lucky to be able to enjoy the Financial, Social and Educational freedom.
* While replying to a query about the next project, Soha Ali Khan said that the next project is "31st October" which is a movie about the riots that ensued after the assassination of Former Prime Minister Indira Gandhi. She said that she is playing the role of a Punjabi lady with three children.
The Press meet of Actress Soha Ali Khan and Producer Vibha Khosla was organized by Gopal Khandelwal of Balaji Entertainment Ltd.