Nagpur: National Microtia Awareness Day is observed on November 9th each year across the globe. The purpose of this day is to promote the public awareness of Microtia and Atresia. Microtia is a congenital deformity where the pinna (external ear) is underdeveloped. Owing to which, both parents and child remain vulnerable to unwanted attention.
Hence there is a need for awareness, if more people learn about this, they will be more kind and more accepting. The national day, marks the same and aims to spread word about organizations and resources for information and support.
There are only a handful of experts on microtia, who can provide reconstruction of the ear along with hearing to the patients, one of them is Dr Ashesh Bhumkar of Mumbai.
Ahead of Microtia Day, in an exclusive talk with Nagpur Today, Dr Ashesh Bhumkar said, "This condition is a deformity of the ear and especially the external ear and also affects the hearing of the patient. Also, not many know that Microtia can be fully treated by an ENT surgeon but not many opt to train for this surgery because it is complex. There is no particular cause behind this condition and also it does not affect the babies of those who are suffering from this genetic disorder," said Bhumkar, who is also an alumni of B J medical college in Pune.
Most microtia patients often hide their condition by growing their hair and letting it lose over their ears. "In my 30 years of experience, we have carried out more than 1,000 such surgeries worldwide. In Pune, we have operated upon more than 100 patients who have got their hearing back along with an ear because of the corrective surgery with us," said Bhumkar.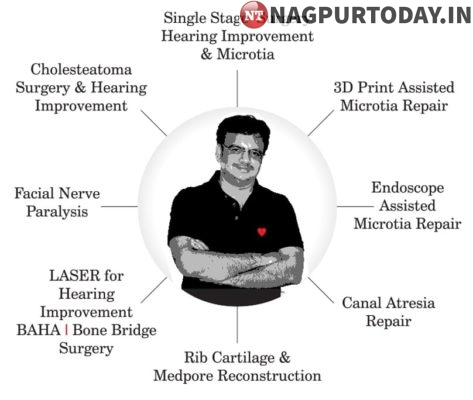 The surgery is extremely complex in nature and earlier, was done in three to five sittings. However, due to technical advancements in medicines and equipment, doctors are now able to provide the entire procedure in just one go, where hearing improvement along with Microtia reconstruction is provided.