Nagpur: Green Vigil Foundation found that hazardous medical waste is being collected very carelessly by Superb Hygienic Disposal Pvt. Ltd. Superb Hygienic Disposal vehicle spotted at Ramdaspeth, Nagpur, was found be to allegedly flouting rules laid down by the government. Though the rules apply to all persons who generate, collect, receive, store, transport, treat, dispose, or handle bio medical waste.
None of the worker was wearing handgloves and mask which are said to be most essential. Even hazardous waste packets was transported by hand for a distance of 500 m. Hazardous medical waste packets were dumped on road.
Used Medical Syringe , gloves, cotton pad with blood and other medical waste were lying on road. Workers were throwing medical waste packets openly in truck. Used medical waste was hanging out of transportation vehicle door, which may have fall down anywhere during transportation.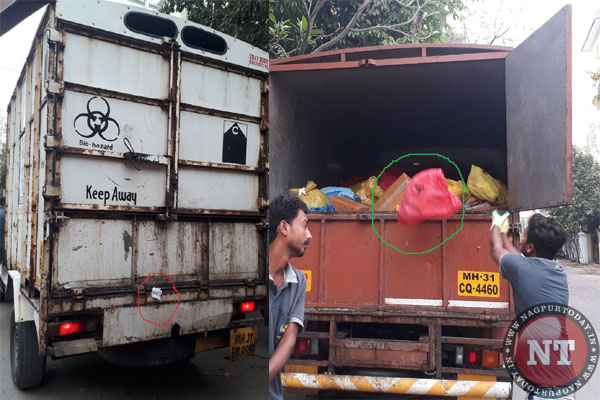 Seeing slackness of the workers, Green Vigil Team pointed out to workers what mistake they were making immediately the workers wore gloves, hurriedly dumped the packets in vehicle and fled in vehicle.