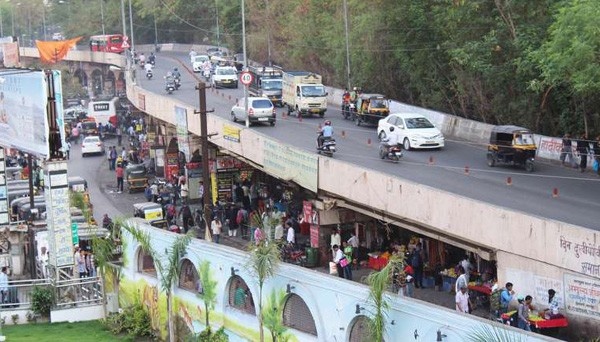 Nagpur: He works as supervisor in Hari Om Guest House under flyover opposite Ganesh Tekdi temple. He had always dreamed of owning his own shop. Followed by years of struggle and savings, he finally owned that block, under flyover. However as soon as he heard the news of demolition of the existing flyover in front of the west gate of Nagpur Railway Station, the well nurtured dreams of Ravi Wankhede turned into the worst nightmare.
"After years of savings I had managed to earn enough, to buy a shop of my own. However the demolition drive which will start from September 25 has posed a serious problem of my livelihood," lamented Ravi Wankede as he's going to lose a shop which he had bought along with his supervisor job at the guest house, both located under the flyover.
However Ravi is not an exemption. This decision has raised burning questions regarding livelihood of several families. There are around 150 shops under flyover which are set to go after September 25.
Panic and distress grew among all the shop owners after Union Minister Nitin Gadkari announced the demolition of existing flyover in front of the west gate of Nagpur Railway Station from September 25.
Another shop owner told Nagpur Today that they have signed bonds with Nagpur Municipal Corporation which enable them to run shops for next 30 years.
"We have a bond with NMC, which clearly states that the shops they have allotted us belonged to us for next 30 years, under any circumstance," says Jai Avasti who owns general shop under the flyover.
"NMC had constructed these shops, along with the overbridge 10 years back. However when I bought this shop, we had bond of 30 years. They are planning to ground this bridge in just 10 years of its existence. How are they suppose to kick us out even before the contract ends?"' Avasti said while expressing his aguish.
However, he also mentioned that they have not received any sort of intimation from the NMC so far.
As per the details the Metro Rail Corporation (MRC) will demolish the flyover and will undertake widening of road and other development works there. 50% of the profit from these places will be shared with the MRC. The MRC will also construct Netaji Market near Munje Square.
Shubham Nagdeve