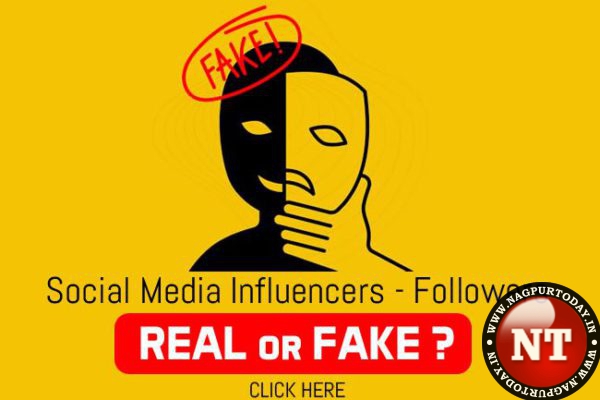 Nagpur: In the ever-evolving landscape of marketing, the battleground has shifted to social media, where a new breed of salespersons, popularly known as social media influencers, are wielding their influence with a massive army of followers. However, amidst the race to achieve business success, a disconcerting trend has emerged – the manipulation of follower numbers through fake practices, and Nagpur seems to be grappling with this issue too!
The meteoric rise of social media influencers has spurred the influencer marketing industry to grow at an astounding annual rate of 25%, poised to reach a staggering Rs 2,500 crore by 2025. As brands continue to capitalize on their mass following, a pertinent question arises – what if this massive following is merely an illusion?
Discover how Nagpur influencers are promoting growth with up to 70% fake or inactive followers
In an eye-opening investigation conducted by the diligent team at Nagpur Today, shocking revelations have come to the fore. Numerous influencers in Nagpur are found to have up to 70% of their followers being fake or inactive, casting doubt on the authenticity of their online presence.
The Second Capital of the State is witnessing a burgeoning social influencing market, with influencers making their mark in various sectors, including food, fashion, news, travel, lifestyle, and more. Amidst this flourishing environment, the number of followers has become a critical criterion for brands looking to promote their products, leading some influencers to resort to unscrupulous means – relying on fake followers to inflate their popularity.
While some influencers have chosen to maintain their integrity and foster genuine connections with their audience, the shocking research by Team Nagpur Today has unveiled a distressing truth – that a significant number of influencers are resorting to unauthentic practices, compromising the trust of their followers.
As the industry grapples with this alarming trend, it becomes crucial for both brands and followers to be vigilant and discerning while choosing whom to trust in this digital landscape. For the sake of genuine growth and authentic connections, it's time for influencers and marketers alike to rethink their strategies and foster a more transparent and credible online community. Only then can we ensure that the power of social media is harnessed responsibly, and true growth is achieved, both for businesses and their valued audience.
As a follower, there are a few things you can do to identify potentially fake influencers:
Look for Engagement: Check if the influencer's follower count matches their level of engagement (likes, comments, shares, etc.). If someone has a significant following but low engagement, it could be a red flag.
Analyze Comments: Observe the comments on their posts. Genuine influencers usually have authentic and relevant comments from real people, while fake followers often leave generic or spammy comments.
Check Growth Patterns: If an influencer experiences sudden spikes in followers, it might be a sign of purchased followers.
Use Third-Party Tools: There are third-party tools available that can help analyze an influencer's following and determine the likelihood of fake followers.
In conclusion, while some influencers may resort to fake followers, not all of them engage in this practice. By being aware of the signs and conducting a little research, you can make informed decisions about who to follow and support on social media.
We have not mentioned any names but you may check their authenticity yourself using following sites:
– Shubham Nagdeve