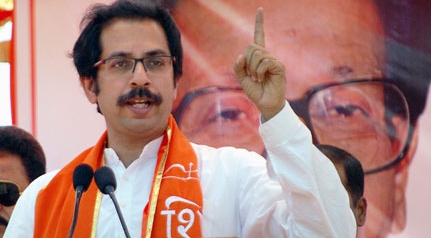 Nagpur News.
Shiv Sena's working President Uddhav Thackeray will be arriving in Nagpur on August 31 but that would be just a few minutes halt. During his visit, a conference of 2107 booth representatives from the Ramtek Lok Sabha constituency has been organized which is likely to take place in Ramtek. Thackeray would be reaching Nagpur on Saturday by a special flight and straightway head to Ramtek. After the meeting in Ramtek, he will leave for Sindhudurg. Interestingly, Uddhav has not spared time for Nagpur Shiv Sainiks during his Ramtek visit.
The Shiv Sainiks from Saoner and Katol units of the party, too, have shown their readiness to organize the conference. According to sources, a bigwig Congress leader, who was earlier in Shiv Sena, is likely to return to the party during the conference.
Eyeing Ramtek
The main agenda of the conference is examining the pulse and reading minds of the Shiv Sainiks for the upcoming Lok Sabha elections. The big question however is whether the hardcore Shiv Sainiks will be willing pitch their candidate in Ramtek Lok Sabha constituency? The BJP leaders and RPI leader Ramdas Athavale, being the alliance partners, have already focused their sights on the Ramtek seat. On the other hand, the Congress party has geared up to retain the seat.
Many in the fray
Shiv Sena has many aspirants for the seat including Krupal Tumane, who lost last election by a narrow margin, former Deputy Director of Education Abhyankar, Raju  Parve, who had deserted Congress to join Shiv Sena, MLA Bhondekar and few others. Various aspirants have been pushed ahead by their respective heavyweight leaders. Jaiswal group is supporting Tumane, Prakash Jadhav group Raju Parve, Mumbai's influencial group standing behind Abhyankar and Bakshi-Tagde group lining Bhondekar. Abhyankar is active in Shiv Sena for over eight years when he took voluntary retirement from a government job. In the last Assembly elections, Shiv Sena had decided to field Abhyankar from Amravati seat but in the last minute Captain Abhijit Adsul was nominated as the party candidate. Abhyankar and Parve are "carrying" the heavyweight Prakash Jadhav to every political meeting and tour, Tumane has this tag of Jaiswal group.
Money matters
However many of the Shiv Sainiks are firmly of view that only monetary wave will sail the winning boat.  The Shiv Sena candidate would have to win the BSP and RPI leaders, of course, with a cost in order to defeat the Congress candidate. In the last elections, Sulekha Kumbhare and BSP candidate Tembhurne almost spoiled the Congress game by denting its votes.