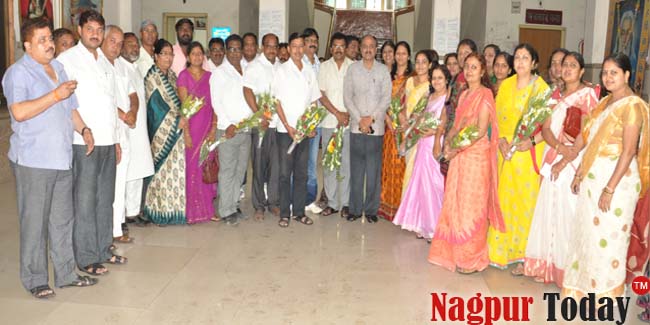 Nagpur News: The elections for Nagpur Municipal Corporation's (NMC) various special committees were held in a meeting. All the Chairmen and Deputy-Chairmen were elected unanimously. The Additional Divisional Commissioner Anand Bharkade was Election Officer. The NMC Secretary Harish Dubey handed over Bharkade the applications for Chairmenship and Deputy-Chairmenship received by him.
The applications for particular Committee Chairmanship and Deputy-Chairmanship received on the same proportions facilitated the Election Officer to announce unanimous elections of all applicants on various special committees. Following are the elected Chairmen and Deputy-Chairmen of various special committees:
1)      Ramesh Manikrao Shingare, Chairman, Medical and Health Committee and Sadhana Naresh Barde as Deputy-Chairperson.
2)      Adv Sanjaykumar K Balpande, Chairman, Judiciary Committee. Pallavi Ashok Shyamkule, Deputy Chairperson.
3)      Kishore Ramaji Dorle, Chairman, Fire Brigade Services Committee. Meena Govind Tidke, Deputy Chairperson.
4)      Ashvini Jayant Jichkar, Chairperson, Women and Children Welfare Committee. Sangita Gopal Kalamkar, Deputy Chairperson.
5)      Chetana Raju Tank, Chairperson, Education Committee. Praveen Vilasrao Bhisikar, Deputy Chairman.
6)      Harish Sitaram Dikondwar, Chairman, Sports Committee. Pravin Gulabrao Narad, Deputy Chairman.
7)      Sandeep Diwakar Joshi, Chairman, Establishment, Electricity and Project Committee. Sarika Sunil Nandurkar, Deputy Chairperson.
8)      Girish Deshmukh, Chairman, Tax Assessing and Tax Recovery Committee. Divya Deepak Dhurde, Deputy Chairperson.
9)      Sudhakar Kohale, Chairman, Water Works Committee. Nilima Kishore Bawane, Deputy Chairperson.
10)   Jagdish Shivdas Gwalbanshi, Chairman  Slums Improvement Committee. Sushma Sanjay Chaudhari, Deputy Chairperson.
The Mayor Anil Sole welcomed and felicitated all the newly elected Chairmen and Deputy Chairmen by offering them bouquets. Standing Committee Chairman Avinash Thakre, Ruling Party Leader Pravin Datke, Deputy Ruling Party Leader Neeta Thakre, NIT Trusty and senior Corporator Chhotu Bhoyar were prominently present on the occasion.