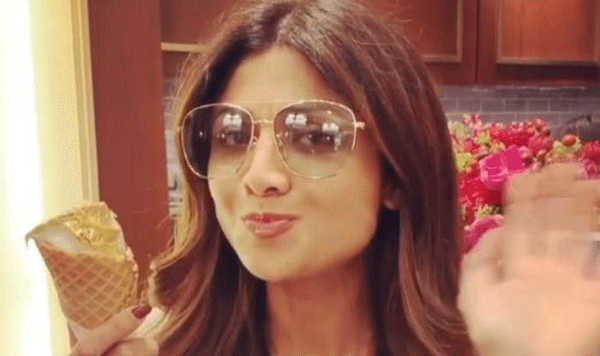 Actress Shilpa Shetty is known for a good number of things, foremost for being fit and fab. But that does not mean that she does not enjoy binging on food once in a while. She even has what she calls a Sunday Binge, a day she cheats on her diet and indulges in dishes she would usually avoid on other days. Recently, she posted a video on her Instagram page enjoying a 24K gold plated ice-cream while holidaying in Hong Kong.
In the video, she seemed to be in seventh heaven as she munched on the ice-cream and said so in the caption she put up. "A #golden #sundaybinge in Hongkong tasted my first 24 carat pure gold leaf icecream and the intense vanilla ice cream under was on another level."
For those who wish to know more about the ice-cream, it costs around Rs 948 for a cone and it is available at i CREMERiA in Hong Kong. The premium ice-cream shop is dedicated to delivering the best taste and outstanding services from Japan. It not only serves seasonal fresh fruits that come directly from Japan, but also the signature Japanese Matcha pastries.
Shilpa also posted a video where she spoke about the movie she made her debut in – Baazigar. This is the 25th year for the movie and her career. She captioned the video, "12th November on this day I made my debut with Baazigar. Dunno how time has flown as we celebrate #25yrsofbaazigar and #25yrs of my career."
She also thanked the Baazigar team and actors Shah Rukh Khan and Kajol for the support, and her fans for always showing her so much love.
Shilpa has been in the film industry for 25 years and she has appeared in Telugu, Tamil and Kannada language movies aside from Hindi ones. Apart from her acting, she has also contributed as an author to two books that are nutrition guides. An avid yoga practitioner, she launched her fitness Yoga DVD in 2015.