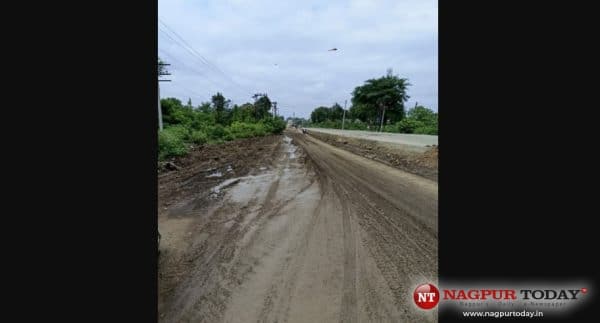 Nagpur: A sheer negligence and apathy in construction of a road has come to the fore. The construction of a 12 km stretch of road from Arvi to Talegaon is in a shambles as one contractor or another left the work incomplete. The construction work had started three years ago.
According to sources, Arvi-Talegaon road is considered to be a connecting point for Aashti, Karanja, Talegaon and Wardha. The first contractor dug the road and dismantled pools entirely. Instead of constructing a new widening road and building pools, the contractor abandoned the work in the middle. Then the second contractor resumed the work at a slow pace, unable to complete the road work in the stipulated period. Many local people raised their voice over the inferior quality of road construction. The dilapidated condition of roads is giving nightmares to the locals as the administration is in deep slumber.
Taking into consideration its paramount importance for transportation and daily commuting, no politicians came forward to bring relief to the distressed people of nearby towns and villages. There has been palpable outrage among people for their sufferings as they felt being left in the lurch and bogged down in mire while travelling on this road. In the rainy season, the road becomes slippery with mud and mire, consequently, accidents have become new normal. Travellers endanger their lives while riding their vehicles on this stretch of road. Moreover, due to the absence of sturdy pools, smooth traffic of heavy vehicles goes haywire as entire traffic come to a standstill causing monetary loss not only to local businessmen but also to farmers.
Residents lamented that the authorities are playing hide and seek with them as construction and widening of Arvi to Talegaon road in Wardha district is still incomplete and is in a shambles for several years. As the soybean harvesting season is going on, farmers have to take their yield to the nearby taluka markets, and in such a harrowing time, they have been caught in between devil and sea with the absence of the robust road. There has been consistent demand and pleas from the residents to construct the road as early as possible to provide them great relief.