Shashank Manohar has been one of the most honest cricket administrators that I have known : Bishan Singh Bedi

• "You can find doctors, engineers, lawyers in every city, but not Test cricketers and Olympians"
• "Today, even the support staff wears the blue cap that was once the pride of Indian cricket. But that is not the case with the Australian baggy green".
• "With the advent of T20 cricket, containing is the new form of attacking. WIth this ideology, how can you expect the spinners to succeed?"
• "Shashank Manohar has been one of the most honest cricket administrators that I have known, and I feel proud to be conferring awards upon the sportspersons of his city"
• "If the team fails, no one succeeds. If the team succeeds, no one fails" Lokmat News NEtwork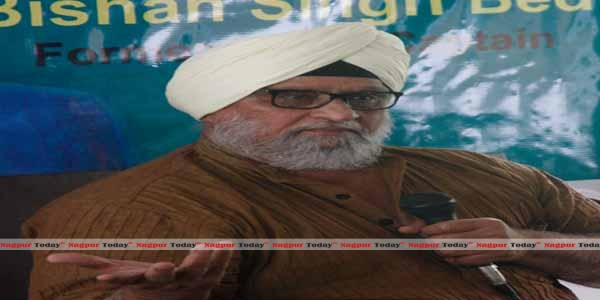 Nagpur News: Continuing his barrage on BCCI's cash-minting T20 tournament, former Indian captain Bishan Singh Bedi cited lack of commitment in the longer format of the game as the major reason behind India's debacle in Test series against England last month. The member of India's golden spin quartet interacted with the media in the Orange City on the eve of the SJAN-Raisoni Achievers Award function to be held on Sunday.
"The ODI success can not cover up for what happened in the tests. Test cricket is the purest form of cricket and every cricketer should keep it in the highest of regards," opined Bedi. "Even the likes of Suresh Raina (ODI man-of-the-series against England) and Yuvraj Singh (World Cup 2011 man-of-the-series) will agree with the same," he added.
Following the refusal of the Supreme Court of India on Monday to reinstate N Srinivasan as the president of the Board of Control for Cricket in India (BCCI), Bedi took to his twitter account to express his dismay at all the complications surrounding Indian cricket. He even used the term 'anarchy' on his social media page and carried the same emotion forward while answering a question here on Saturday. "It (lack of integrity) flows from the apex of the tree. Only one man is taking Indian cricket on a massive ride. It disappoints me as a former player to see that the Supreme Court has to ensure the well-being of Indian cricket. It is beyond my imagination as to what we could be in for in the future," he expressed.
Claiming 266 test scalps at an astonishing average of 28.71, Bedi has seen several generations of Indian test cricketers, but is disappointed with the manner in which the current one is being cultivated.
Quoting the case of a fringe player, who fashioned India's under-19 success in the recent past, Bedi exemplified his concerns. " This particular player has played under my eyes since a very young age. He grew up to scale towering heights for India's under-19 team but failed to emulate his success in the Ranji Trophy. However, his father called me one day to congratulate that his son has been able to bag an IPL contract. It seems as if an IPL contract has become a bigger priority for today's kids than a test cap," asserted Bedi.
Bedi further criticised the importance that IPL is gaining over its senior domestic counterparts, and stated it as a collective responsibility of the media, the fans and the cricket administration to ensure the well-being of test cricket. "It is not just one person or one group of individuals that can serve the cause. You, me and the entire fraternity of cricket-lovers has to understand and take up their roles to to get test cricket back in its rightful place," he concluded.