Shahid – A Story that must be told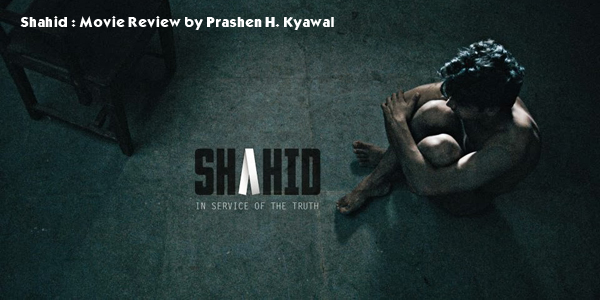 Shahid, this week's movie release, is a story which must be told. It is a film which must be made. It is an act which must be done. It is a lesson which must be learnt.
It is a story of a man who faced worst adversities in life, was offered bad and good choices and he chosen the good one, positive one. It is a story of a man who fought his circumstances for himself. Got himself out of it and then fought for others who were unfortunate to get pulled in similar misfortune. It is a ode to the courage of a man to choose the right path, travel along with it relentlessly and keep fighting for the right till last breath of life.
I am thankful to everyone who stood behind this film and made sure it sees a wide release.
Shahid is a biographical film based on the life of Late Shahid Azmi who was a lawyer with mission to fight for wrongly arrested innocent citizens under the various acts of terrorism. More information on him can be found at http://en.wikipedia.org/wiki/Shahid_Azmi
I am copy pasting a para from the above link which is summary of the story of the film:
"Shahid Azmi (1977 – February 11, 2010) was a noted Indian lawyer and human rights activist, most known for defending those wrongly accused in cases of terrorism, including some of accused in the 26/11 Mumbai attacks, such as Faheem Ansari, who was later acquitted for lack of evidence. At age 14, he was arrested during the 1992 Mumbai Riots. He went to Pakistani Occupied Kashmir into a militant training camp, but returned disillusioned. He was arrested again under TADA, serving seven years in Delhi's Tihar Jail, on charges of plotting against the state, though he was acquitted later. He started studies while in jail, and went on to become criminal defense lawyer in Mumbai in 2003, defending cases for those accused for terrorism. Prevention of Terrorism Act, 2002 (POTA) was later repealed. He was shot dead by three assailants in his office in Kurla, Mumbai on Feb 11, 2010 at the age of 32."
Shahid's real life story is adapted for screen by writers Sameer Gautam Singh with co-writer Apurva Asarani who must be applauded for an outstanding job in moulding a story from real life for reel life. Screenplay is an honest attempt to portray the story with full transparency, honesty and passion.
This movie is a triumph for Director Hansal Mehta who has made this movie even after life threatening calls by people who wanted to bury the truth. A thunderous applause for the director who does not use any melodrama and avoids taking unnecessary cinematic liberties. His approach is to tell the story as it is and not add any ingredients to it which may force the audience in one direction to feel one particular emotion. He does not put any colored glasses over the eyes of his audience and let's them decide what to feel about the happenings on screen.
He has taken every efforts to make sure that the film has a very realistic texture. He achieves this with the help of his Cinematographer Anuj Dhawan by choosing generally rejected shots (called as NOT GOOD ie NG shots) which deliberately has little incorrect framing, etc. He does not make his protagonist stand out from the crowd. He makes sure his hero looks part of normal people. This helps him in his need to project his idea that every normal human being can do incredible act if he is sincere, honest, passionate and positive about his intentions or actions.
He tells the story as it happens and gives emphasis on events and relations which had affected the person whose story it is. However, in doing so, the first half feels little stretched. It may distract us towards our mobiles or surroundings, still the intrigue in the story keeps us hooked to it. The film picks up pace post interval and gets the audience totally immersed in it. Remarkable part is he does it while keeping everything exactly realistic as in real life. Do notice Shahid's torture scenes, the court room sessions, courtship of Shahid with his client girlfriend, love of his brother towards him, is wife's totally justified stand in making a choice. All the awards and accolades this film garnered till now and will garner in coming award functions are well deserved. Hats off to Hansal Mehta.
This film is solely based on the performances of the actors. Every actor in this film performs in a brilliantly realistic way. Be it Yusuf Husain (as Professor Saxena), Kay Kay Menon (as War Saab), Tigmanshu Dhulia (as Maqbool Menon), Vipin Sharma (as Prosecutor More), Baljinder Kaur (as Ammi), Prabhleen Sandhu (as Mariam) everyone shine in even their smallest of roles. Mohd Zeeshan Ayyub who recently mesmerized us in the role of Dhanush's friend the movie "Ranjhana" again does a marvelous job here too even though he has few scenes only. I loved the actor who was witness from Nepal who sees the map. He was fully natural. However the movie solely rests on the solid performance given by Raj Kumar Yadav (as Shahid) who has lived the character on the screen. I loved his role in "Kai Po Che" as Govind. I think he excels in doing breakdown scenes and can unarguably declared as best onscreen crying male. He pulls all the strings of our hearts and plays with it as he pleases to convey the feelings of the character to us. He touches our soul. He surely is and will be one of the best performer in Indian Film Industry. The film belongs to him in totality.
Film Editing by Apurva Asrani (who is also the co-writer and can be reason to keep the stretched out scenes in the edit) is good but could have been best if he had controlled the first half pace of the movie. Music by Karan Kulkarni is apt. Casting by Mukesh Chhbra is outstanding and hits the bull's eye.
Overall, Shahid is one of the important films in Bollywood and one of the finest films this year. Most importantly it gives a very positive message to choose what is right and fight for the right. It builds back hope in the judiciary and overall in goodness in human beings. It shows that a good deed goes a long way.
I will use following quote to explain the message I take home from the film:
"I cannot do all the good that the world needs. But the world needs all the good that I can do."
― Jana Stanfield
Rating :

Recommendation : A must watch film for lovers of realistic cinema, significant stories and independent films. For others, I think it won't harm to watch a quality film even if it does not have the regular masala fanfare. Such films needs support of the audience because at the end of the day business matters. Right films must get right support. If you can, you must definitely watch this movie before it gets out of the theater.