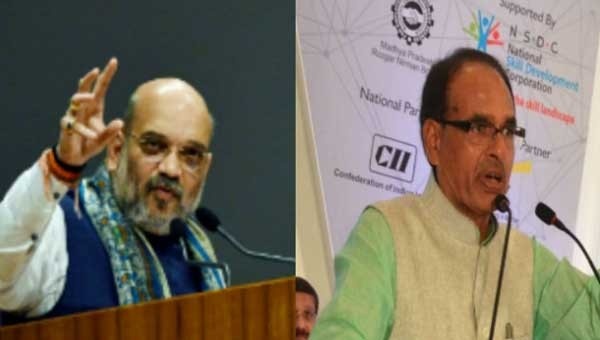 Bhopal: BJP president Amit Shah will flag off Madhya Pradesh Chief Minister Shivraj Singh Chouhan's "Jan Ashirwad Yatra" from Ujjain on Saturday.
The "yatra" will culminate here on September 25
Chouhan is expected to cover all the 230 Assembly segments in the state and address scores of rallies en route, a senior BJP functionary said
The Assembly polls are due in Madhya Pradesh later this year
Shah will flag off the "yatra" after offering prayers at the Mahakaleshwar Temple, one of the 12 "jyotirlingas", in Ujjain
Chouhan performed a puja at the state BJP headquarters on Friday of the two vehicles that have been specially modified as chariots in Pune in neighbouring Maharashtra
"Two vehicles were converted into chariots in Pune. The chief minister performed a puja of the vehicles. One of the chariots will be used in central Madhya Pradesh and the Malwa and Nimar regions, while the other one will be used in the Bundelkhand, Mahakaushal and Vindhya regions," state BJP spokesperson Rajnish Agrawal said.
He added that the chariots had all the amenities, including a hydraulic platform each to allow the chief minister to address public gatherings as well as communication equipment to ensure that he could run his office from the vehicles.
"There will be live social media updates from the chariots. A (BJP) social media team will be travelling along with the chief minister. All facilities like Internet, computers, televisions, washrooms and restrooms will be available in the vehicles," Agrawal said.
This will be Chouhan's third "Jan Ashirwad Yatra". He had embarked on similar tours ahead of the state Assembly polls in 2008 and 2013.
The BJP is seeking a fourth consecutive term in Madhya Pradesh, while the opposition Congress is looking to regain power in the state after a gap of 15 years.