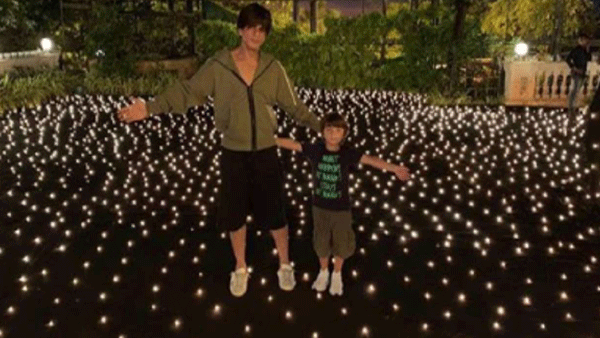 It's Christmas time and just like the rest of the world, Bollywood is getting ready for the festival. Pre-Christmas bashes are happening in every corner of Mumbai and photos are flooding social media. Shah Rukh Khan's house Mannat has been brightly lit, just like it had been for Diwali.
Gauri Khan shared an adorable photo of SRK and AbRam both in the trademark SRK romantic pose among the lights. She captioned the photo, "Merry Christmas!"
To be sure, SRK and AbRam are the cutest father-son duos and fans can't get enough of them.
Just the other day, Gauri shared a picture, where both SRK and AbRam are dressed in winter clothing, heavy jackets, woollens and caps. Shah Rukh is on an iron bench, and AbRam is giving him a little kiss.
Last month, SRK, Gauri and Suhana visited the US to celebrate SRK's elder son Aryan's birthday. During the trip, they had also paid a visit to Rishi Kapoor, who is undergoing treatment.
Shha Rukh Khan's film Zero has hit the screens, but unfortunately it has failed to impress and is on a downward spiral. The film has made only around Rs 38 crore in two days. In Zero, Shah Rukh Khan plays a vertically challenged man from Meerut named Bauua Singh. He is in a complicated love triangle with a wheelchair-bound scientist (Anushka Sharma) and an actress battling alcoholism (Katrina Kaif).
The film has special appearances by Sridevi, Deepika Padukone, Alia Bhatt, Rani Mukerji, Kajol and Salman Khan.