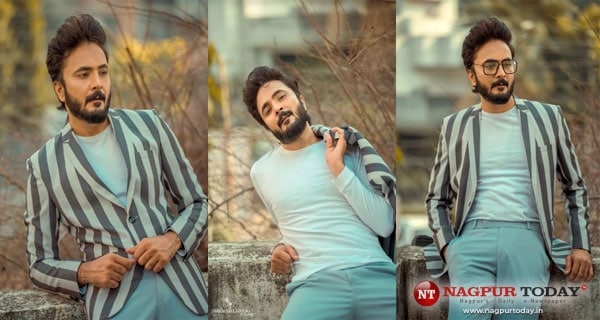 Nagpur: Amid his hectic schedule, Saurabh Patel, a popular BIG BOSS contestant interacted with Nagpur Today representative, right before leaving for Chhattisgarh. During this, he said that the competitive selection process in BIG BOSS is similar to the selection process of the MILITARY. "You always have to be fit and alert! A little mistake can show the way out of the game," he said.
Patel said that after selection in BIG BOSS, they were escorted from the nearest airport to reach the set. Usually at the airport, as per the instructions given by the organizer, the contestants are blindfolded and with their face covered are taken for a complete health checkup, the examining doctor or colleagues do not even realize who they are. During this, one has to be completely quiet and co-operative, as it's seen in the army.
Patel further said that one cannot carry anything except clothes at the set.
According to Patel it is rumored that drug addiction is preferred in BIG BOSS. Because the level of the contestants is of high standard, where intoxication is in the form of entertainment. Whereas in SET any kind of intoxicant form of entertainment is not for the contestants. No arrangement is made by the organizers, so that no untoward accidents are only faced and the level of the program does not decline.
Salman not allowed inside SET
Preference has been given to only and only contestants and cameras deployed for their surveillance within the SET. ANCHOR SALMAN KHAN of BIG BOSS is also not allowed in the SET. Even within the SET, the tasks ranging from cooking, toilet cleaning, cleaning the SET premises, make-up etc. have to be done by the contestants with the help of each other. So that there is no exchange of information inside or outside the SET. Can you
Ration is available once a week
From the beginning of BIG BOSS SESSION, ration is provided once in every week for a week, which is mandatory to cook and eat thrift. Otherwise, there is a danger of starvation. That is, rice has to be eaten along with roti because for so many contestants, it is not easy to prepare one type of food by the contestant at both times.
Every Saturday food comes from outside
Because shooting is done on Saturday and Sunday days. The cooking will be difficult as the shooting is from 12 noon to 4 pm and then from 5 pm to 9 pm, so the food for all the contestants available every Saturday comes from outside.
Contestants to be released after TELECAST
On the basis of public vote, the contestants who have scored the highest marks each week are eliminated from the big boss session, that too on the second day of the EPISODE TELECAST.