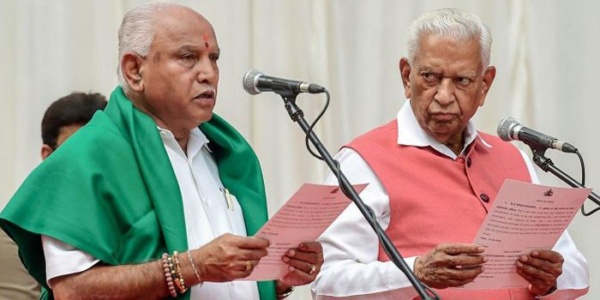 Mumbai: The Supreme Court's decision of slashing the 15-day window given to BJP Chief Minister B S Yeddyurappa to prove majority showed that Karnataka Governor Vajubhai Vala had favoured the saffron party and he was at
fault, the Shiv Sena said today.
It also alleged that since the BJP has "money and muscle power", it may win over some Congress and JD-S MLAs to prove majority in the southern state.
"The Karnataka power play reached the corridors of the Supreme Court, which virtually nullified the governor's decision. Despite the BJP not having the clear majority, governor Vajubhai Vala hurriedly invited it to form the government and gave it 15 days time to prove majority," the Sena said in an editorial in its mouthpiece 'Saamana'.
"But the SC reduced the 15-day window and ordered it to be done within 24 hours. This shows that the governor had granted extra favours to Yeddyurappa. The SC decision of drastically slashing the 15-day window shows that the governor was at fault.
"The newly-elected members of the Karnataka assembly are yet to take oath. But ever before that the governor had nominated an Anglo-Indian member. Although it is the prerogative of the governor, given the political instability and the power play at work, it was an attempt to assure one vote (to BJP)," the Uddhav Thackeray-led party said.