Satara: At least 18 labourers were killed and 15 others injured when a speeding truck overturned in western Maharashtra's Satara district in the early hours today, a police official said. The condition of three of the injured labourers was reported to be critical, he said. The police suspect that the driver "dozed off" and lost control of the vehicle while managing a difficult turn, leading to the accident.
The truck, carrying construction labourers from Bijapur district in Karnataka, was going towards Pune when it met with the accident around 4.30 am on Mumbai-Bengaluru highway passing through the district, around 250 km from here, Satara's Superintendent of Police Sandeep Patil said.
"After crossing the Khambatki ghat section, there is a difficult turning of 'S' shape. It is an accident-prone spot. The truck driver probably dozed off and lost control over the wheels, as a result of which the vehicle hit a barricade and overturned," he said.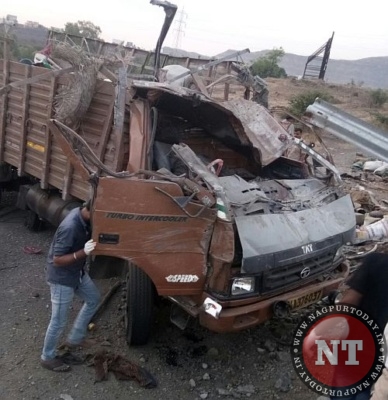 At least 18 labourers died, while 15 others sustained injuries, he said. The labourers, carrying heavy and sharp equipment, were heading to a construction site in Pune, Patil said.
"They were carrying some sharp and heavy equipment in the truck. When the vehicle overturned, the equipment fell on the labourers. Many of them died due to head injuries caused by the equipment," the SP said. On being informed, the Khandala police rushed the spot and took all the victims to the Satara Civil Hospital, he said. Three of the injured labourers were reported to be in a critical condition, he said.