Santro car hits divider, overturns following tyre burst at VNIT square; No one hurt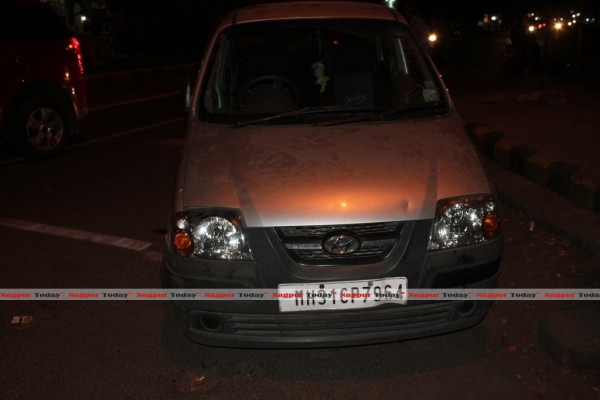 Nagpur News.
A speeding Santro car overturned amidst crowded traffic at VNIT square here on Monday evening after hitting the divider on the road approaching from Abhyankar Nagar square.  The driver lost control after the front right tyre of the vehicle suddenly burst ramming the vehicle into the divider. No one was hurt in the incident. The driver, identified as Vidhyut Roychowdhary, 38, resident of Katol naka, also escaped unhurt. The car was badly damaged, particularly the steering side tyre stalling the movement completely. The window slides were smashed to scatters. Soon after the accident, the students of VNIT who were around on their usual get together rushed to the rescue.
Nagpur Today correspondent was an eyewitness to the entire incident. Here's a brief account of what happened.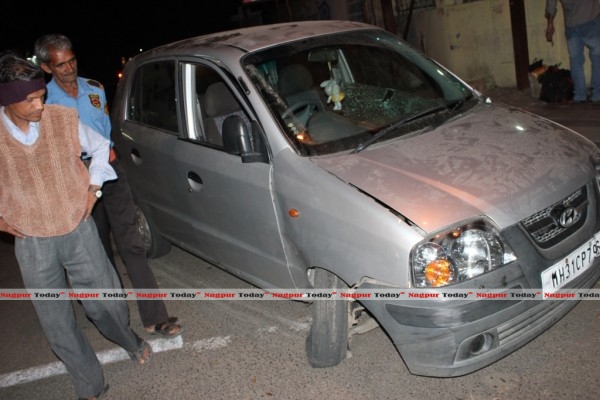 On Monday evening at 9.05 pm, a loud thud distracted the attention of many of the commuters. The sound resulted from the tyre burst of the car. In no time the car hit the divider's end located on VNIT square signal towards Abhyankar Nagar. Such was the impact of the collision that the car overturned making the students to rush towards the vehicle.
The students pulled Roychowdhary who was driving the vehicle in inebriated state. Suddenly after being rescued, Rowchowdhary called up his wife at home and informed about the incident. The students then pulled up the car to set it straight and then pushed it off the road.
Rowchodhary works as a medical transcriptionist at the IT Park near Ambazari lake here. He was returning home when the accident happened.
One of the commuters called up Ambazari police who did not reach the spot at the time of going to the post.