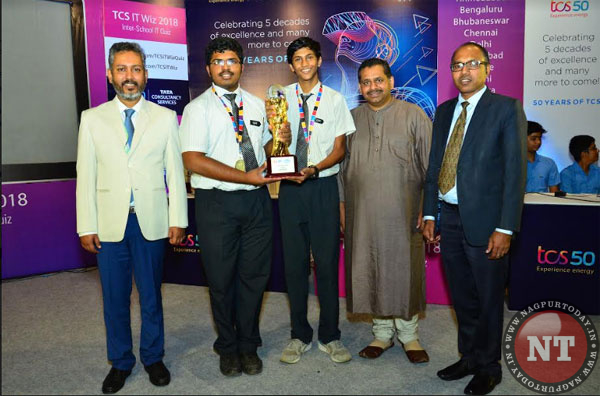 Nagpur: TCS IT Wiz, India's biggest inter-school quiz, organised by Tata Consultancy Services (TCS), a leading IT services, consulting and business solutions, witnessed participation from over 850 school students from Nagpur on Tuesday, September 04, Dr. Vasantrao Deshpande Hall, Opp MLA Hostel, Civil lines, Nagpur.
Aimed at building awareness about the growing significance of empowering technology skills, this strongly-contested, annual knowledge initiative was open to students studying in class 8-12. Each school was allowed to send multiple teams of two members. There was no entry fee.
The TCS IT Wiz this year was an infusion of tech trends and was presented through gamification rounds, developed by using animation software that kept the audience and the teams at the edge of their seats. The 5 rounds were – Mass personalization, Leveraging ecosystems, Creating exponential value, and Embracing risk besides an exclusive round on tcs@50. The Quiz platform looked into the technological trends that are poised to have huge traction across the globe. The top six teams from the written preliminary round were qualified for the regional finals.
After five rounds of quizzing at the Regional finals, Sanchit Khedkar and Archit Venugopalan from Centre Point School,Wardhaman Nagar,Nagpur won the title. The Regional Champions this year walked away with an INR. 60,000 worth gift vouchers while the runners-up represented by Dev Ashar & Gaurav Singh from GH Raisoni,Nagpur were rewarded an INR 40,000 worth gift voucher along with a specially designed trophy and medals. The 6 finalists also received an array of prizes from TCS ranging from gym bag, multifunctional music torch with blue tooth speaker and Wireless outdoor speaker along with tcs50 pen drive. The winners will represent Nagpur in the National Finals to compete with 11 other regional champions across India.
The prizes were distributed by Arvind Kumar, Center head of TCS Nagpur.
The TCS IT Wiz 2018 will be held across 12 cities across India – Ahmedabad, Bengaluru, Chennai, Hyderabad, Kolkata, Indore, Nagpur, Bhubaneswar, Kochi, Delhi, Mumbai and Pune.
TCS IT Wiz Format: The animation based quiz software with a unique format had 5 rounds based on the TCS BUSINESS 4.0 Framework. The quiz was based on a professional circuit buzzer giving the teams an equal opportunity to answer.
MASS PERSONALISATION: In this round the teams received elements of an overall answer and they had to identify the missing fourth part. Additional clue options with reduced score were available for the teams to use.