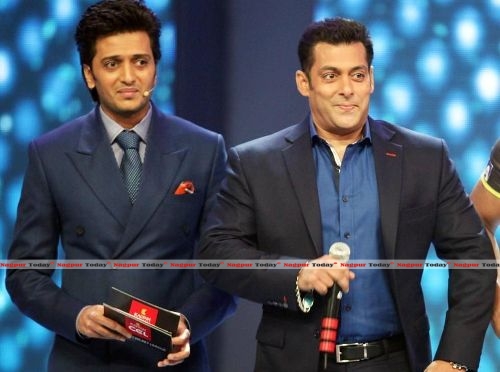 Nagpur News.
For quite some time the Being Human guy of Bollywood Salman Khan has been seen expressing his desire to do a Marathi movie as and when any proposal comes his way. And it seems Marathi mulga of industry Riteish Deshmukh has lapped up his words for commitment. Yes Salman will be seen in Riteish Deshmukh's next Marathi movie 'Lal Bhari'.
Sources said Salman has given his go ahead to Riteish when the latter approached him for doing a cameo in 'Lal Bhari'.
The film is being directed by Nishikant Kamat and it is being co-produced by Riteish's banner Mumbai Film Company and Cinemantra Entertainment.
"It was extremely gracious of Salman to himself offer to be part of our film 'Lai Bhaari'. It was great to do a Marathi scene with him," Riteish said in a statement.
Riteish and Salman have known each other for many years. Both Salman and Riteish were shooting in Hyderabad at Ramoji Film City for their respective projects – Salman for 'Jai Ho' and Riteish for 'Lai Bhari'. Post the shoot, they would sit together and chat, said a source.
The source added that Salman was very intrigued by Riteish's approach to his production venture and enjoyed hearing about the film and the story. He then came forward and suggested being part of Riteish's production venture.