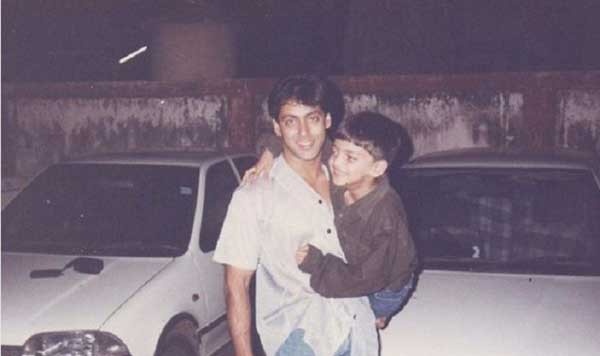 Salman Khan has been the messiah for many in Bollywood. He has launched so many people in the industry, that many even consider him to be their mentor. Whether it's guiding actors to lose weight to get their big break in the film industry, or simply giving young aspirants their big Bollywood break, he has been doing it all. For instance, he is also re-launching Bobby Deol with Race 3, hoping to give him the much needed turning point in his career. Today, Sallu bhai took to Instagram to share a pic and captioned it, "Being Launched Tomorrow … KAL dekhte hai yeh ladka AAJ kaise dikhta hai …"
Now we don't know who is he referring to in this pic. He could be a star kid or someone completely new to the world of Bollywood but the fact that Salman is giving him a break, we're sure it going to be quite a big one. He will be joining the likes of Sooraj Pancholi, Aayush Sharma, Arjun Kapoor all of whom were either mentored or launched by Salman. So is he related to Salman or just another star kid? Let us know in the comments' section below.
When Salman was asked by Karan on his popular talk show, Koffee With Karan about launching so many talents in the industry, he refused to be acknowledged as a Godfather and said, "Somebody gave me a break so I am doing the same. It's also because my upbringing has been very correct. There's no insecurity or jealousy. I like people to be successful and have a great future ahead. If you are doing well, your family is doing well. Every day that I don't work I feel guilty." Well, we canno wait to see who is launched by the actor tomorrow. We are sure that Salman will officially introduce him on social media. Well, stay tuned to this space as we keep you updated with more details.