Thousands of prominent personalities including ministers, MPs, MLAs, top Government officials, political, social leaders, well-wishers, workers and others attend the funeral and pay floral tributes to the departed soul in Nagpur.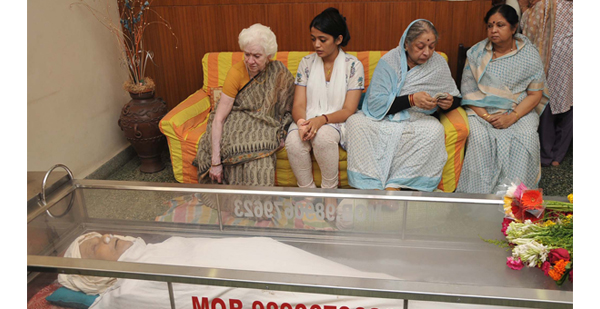 Nagpur News: The mortal remains of Sahakar Maharshi Babasaheb Kedar were consigned to flames with State Honours. The pyre was lit by his elder son Sunil Kedar at Ambjhari Crematorium on Saturday (August 2) at 11.30 am. Thousands of mourners were present when the mortal remains of Babasaheb Kedar were consigned to flames. Babasaheb passed away on Friday.
The Bajaj Nagar residence of the Sahakar Maharshi was thronged by his relatives, well-wishers, colleagues and workers in hundreds to pay their last respects  to their dear leader. Police, too, barred the traffic between Bajaj Nagar and Laxmi Nagar Squares to facilitate smooth traffic movement for those who wanted to proceed towards Babasaheb Kedar's residence.
The funeral procession started exactly at 11 am from the Kedar family's residence. The prominent personalities who paid floral tributes to Babasaheb Kedar inclue Guardian Minister Shivajirao Moghe, Ministers Anil Deshmukh, Nitin Raut, Rajendra Mulak, MPs Vilas Muttemwar, Mukul Wasnik, Ajay Sancheti, MLC and former BJP chief Nitin Gadkari, MLAs Krishna Khopde, Chandrashekhar Bawankule, Sudhakar Deshmukh, former MP Jogendra Kawade, District Collector Saurabh Rao, Police Commissioner K K Pathak, Mayor Anil Sole, Standing Committee Chairman Avinash Thakre, Deputy Mayor Sandeep Jadhav, Nana Gawande, Amarchand Jain, Pradeep Pali, Akhilesh Singh, Prince Singh, Pankaj Rai, Shailesh Arya, Mukesh Singh, Prakash Wanjari , Ajju Vijayavargis, Deepak Patel, Prof Arun Patil, Radheshyam Sarda, Praksh Vadhwani, Girsh Vyas, Ramesh Bang, District Cooperative Bank Chairman Sharayu Taiwade, Ashok Dhawad, District Congress President Sunita Gawande, District Information Officers Mohan Rathod and Anil Thakre, Gev Awari, Dwarkaprasad Kankani, Jaiprakash Gupta, Aashish Deshmukh, Ramesh Mantri, Krishnarao Pandav, Dinanath Padole, Sevak Waghaye, Umesh Choube, Raju Timande, MLA Raju Parve, Sinil Shinde, Prakash Pohre and others.
A condolence meeting under the leadership of Shivajirao Moghe was held. MLA Aashish Jaiswal, Jogendra Kawade, Anil Deshmukh, Banwarilal Purohit, Mukul Wasnik, Vilas Muttemwar, Datta Meghe, Manikrao Thakre, Mayor Anil Sole, Ramesh Bang addressed the condolence meeting and paid tributes to Sahakar Maharshi Babasaheb Kedar.
Kalamna Market will observe 3-day mourning and all the Krishi Utpanna Bazaar Samitis in the Nagpur District will remain closed.