Rupa Rai remembers the humble person in Vajpayee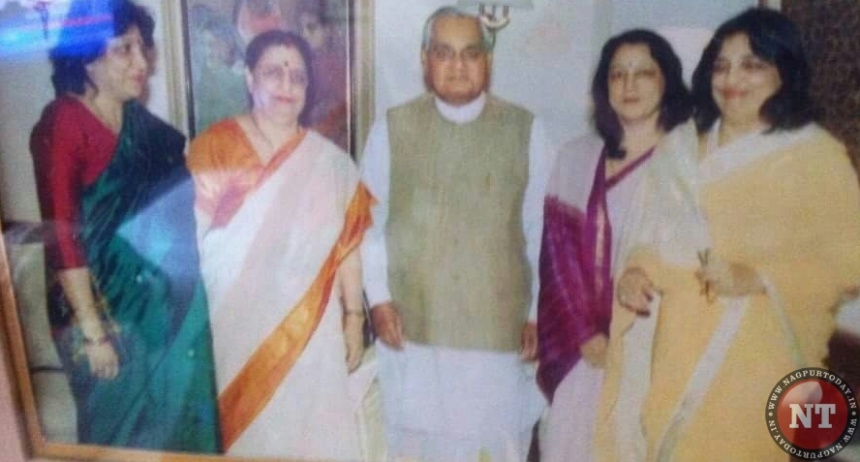 NAGPUR: Former Prime Minister Bharat Ratna Atal Behari Vajpayee breathed his last on Thursday evening after a prolonged illness. One of the legend Parliamentarians, great orator and renowened poet; Vajpayee had his followers and admirers among political adversaries also.
Being a volunteer of Rashtriya Swayamsevak Sangh (RSS), Vajpayee had good relations with Nagpur that he cherished for his lifetime. He had visited Nagpur on 21 June 1986 to attend the last rites of Sundarlal Rai, the then Maharashtra State President of Jan Sangh. Then onwards, whenever Vajpayee came to Nagpur, he stayed at Rai's residence thus playing a guardian's role to his colleague family.
Rupa Rai, the neice of Sundarlal Rai and daughter of former Governor Rajni Rai, is currently a corporator in Nagpur Municipal Corporation (NMC). "He has always been a guardian to us. When he became the Prime Minister for the first time, I had gone to meet him at his Delhi residence, but the security guards and party workers stopped me outside. When he noticed me in the crowd, he walked up to me and asked as why I was standing there. When I told him about the incident, he asked the security guards to move aside saying that he wanted to meet his daughter," Rupa Rai said while remembering Vajpayee.
She said that Vajpayee was a very humble person. "He was very fond of non-vegetarian food. Whenever he visited our residence, we used to request for his favorite dishes. He liked watching films and listening to music. If he learnt about any Kavi Sammelan or a play happening in the city during his visit, he would reach there without bothering about any invitation," Rupa Rai said.