Success doesn't come from what you do occasionally, it comes from what you do consistently"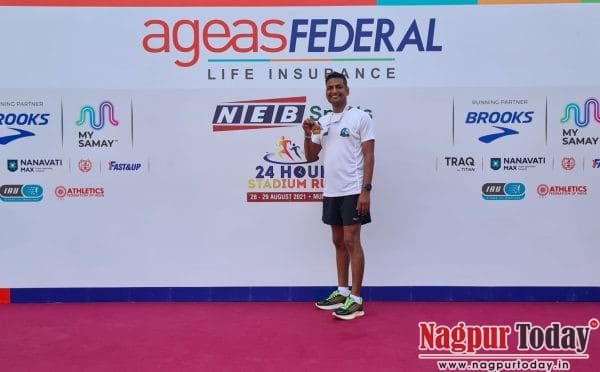 The inspiration to run a 24 hour run at the stadium occurred after his successful journey of the 12 hour run at same venue in March earlier this year.
Agrawal the Cofounder member of NAGPUR RUNNERE & RIDERS & only runner from central India to be on feet for entire day i e 24 hour said Sometimes, our dreams do happen when we work on them. Quite frankly, I did not prepare the way i wanted to due to Humid weather during past few months . I had singed up for this 24 hour stadium run with detail discussion with Mitesh Rambhia, Kumar Ajwani , Satish Gurjaran & Adv. Ekta Awachar as I was willing to go for it.
As per Agrawal It was fun event when we as runners get to test our limits & set goals to better each year. The air had cooled down after sunset but the humidity & heat earlier made the run tougher with every mile.
There were over 1800 participants in individual and team relays. Other categories of the run were 12 Hours individual , 12 Hour Team Relay , 24 Hour team Relay & 100 Km Individual run .
Runners across genders & ages from 18 to 67 began on 28th August Saturday 6PM & ended on 6 PM 29th August on Sunday.
The run gives runners an adrenaline rush with Mumbaikars cheering as spectators for each participant. The event at Wings Sports Centre, Reclamation , Bandra West in Mumbai is the source for the top 4 runners to qualify for IAU 24 Hour World Championship.
Agrawal Thanked his Coach Dr Sunil Kapgate (Jai Athletics Club) & Dr Kevin Agrawal (Akhada Performance Studio) who trained him mentally & physically, his running partners Kalyani Satija, Soodesh Jhawar, Sandeep Maheshwari & all members of Team #NRR for making his dream come true.