Nagpur News: A Memorandum of understanding was signed between the ZIM Laboratories LTD,MIDC Area, Kalmeshwar  Nagpur on tuesday 15 October. The MOU is being signed on the prospect that both the institution collaborates on developing the joint academic and research co-operation between the two institutes.
Registrar of RTMNU Dr. Ashok Gomase and Managing Director of ZIM Laboratories Anwar Daud signed the MOU. Vice Chancellor RTMNU Dr. Vilas Sapkal, Pro VC Mahesh Yenkie,BCUD Director A.D Chaudhary, RTMNU PRO Mohite, Chief Research officer(ZIM) Vijay Mathur, GM(ZIM) Pradeep Katari were present when the MOU was signed.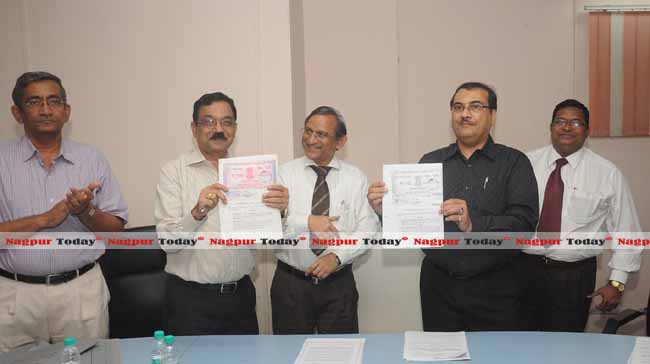 Speaking on the occasion VC Dr. Vilas Sapkal said, " the students would get maximum experience and exposure  in this industry linked projects. MOU will define a mechanism to promote interdisciplinary research, impart vocational and skill oriented training that will benefit student and staff of both organizations, joint research and academic activities leading to academic excellence, new knowledge generation , innovative technology development, professional skill and competence development will build many synergies of interdisciplinary research through collaboration of Nagpur university and ZIM Laboratories."
Zim Laborataries LTD commenced its production as manufacturer of pharmaceutical formulation unit in 1989 and now is the leading pharmaceutical company in Central India. ZIM Lab is WHO GMP certified&ISO9001:2008 accredited company, Zim was selected and awarded as the Best Managed Industry Award by D.I.C(Govt of Maharashtra ). Zim is well known to deliver products confirming to International Quality standards.
Zim Laboratories LTD and Nagpur University will undertake joint research work in the areas of mutual interest.
Virtual center for interdisciplinary research in the university in collaboration with Zim Lab.The concerned scientists of Zim Lab and corresponding faculty members of university together will formulate syllabi for academic programs, new courses, joint research projects and training for skill oriented human resources with due approval of both the institute and within the framework of rules and regulation governing both the organizations.
Project work of students
A total of 5-10 selected students of under-graduate, Post-graduate and research in the respective areas of specialization of University will be allowed at a time for project work at ZIM Laborataries LTD. Students will work in the areas of mutually agreeable identified by both the organizations.  The area of co-operation will be defined and modified from time to time. The areas identified are Biotechnology, Biosciences, Pharmaceutical sciences, Medicinal Chemistry,  Analytical Chemistry, Physical Pharmacy, Toxic genomics, Pharmaceutical Engineering, food & nutrition herbals etc.
This is the fifth MoU signed by RTMNU. Earlier University had signed MoU with CSIR, Neeri, Amcon labs and Dev Sanskriti Vishwa vidyalaya, Haridwar.
… Charles Salve