RTMNU: Onscreen valuation centre & Mobile App launched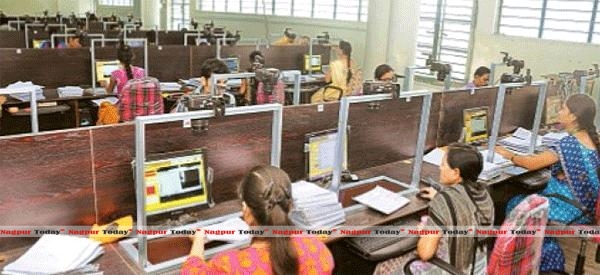 Nagpur: With its promise of bringing in major IT reforms in the university, Vice chancellor of Rashtrasant Tukdoji Maharaj Nagpur University (RTMNU) Vice chancellor Dr SP Kane along with his team has taken huge steps in this regard from this year's winter examination .
A state- of-the art 'Onscreen valuation scanning centre' has started functioning from Pariksha bhavan. VC Dr Kane, launched the 'Onscreen valuation scanning centre' and 'RTMNU E-Suvidha Mobile App' on Wednesaday at Pariksha Bhavan.
The online scanning centre is being considered to be one of its kind in whole of the Maharashtra.The university had decided to conduct all the valuation and revaluation works online from this academic session. The IT service provider 'promaarc' along with the university will have the responsiblity for online online evaluation work.
Vice chancellor Dr Kane during the visit to the 'Onscreen valuation scanning centre' with the media informed that the state- of-the art online valuation centre will have facilities for online scanning of the answersheets and evaluation facility will be provided in five diferent centres in the begining.
Dr Kane further said that, In the first phase 60 scanning machines have been installed. And 28,000 amswersheets will be scanned per day here. Nearly, 16 CCTV cameras have been installed in all the five valuation centres.


Which include Ramdeobaba engineering college, Anjuman engineering college, University library, LIT and Academic staff college. Initially, the examination of engineering, Law and Pharmaceuticals will have onscreen valuation. And total 500 more computers will be added in the facility to come up in Pariksha bhavan.
Pro-VC informed that the scanning data of the anwersheets will be stored in a software.And the data stored in the hardisk will be given to for the inscreen valuation. He said that bthe results in future can be expected to come whithin 30 days of the examination.
Training to the teachers
Pro-VC Dr Pramod Yeole informed that the teachers evaluating the marksheets onscreen will get a demo traing before the actual work.
There will get a unique password every day for the same. The teachers will be valuate minimum 30 answersheets and maximum 60 answersheets per day.
The teacher checking the anwersheets will not be able to know the college and belonging of the answersheets.
E-Suvidha Mobile App launched
The students can download the E-Suvidha Mobile Application from Google Playstore. The students who have admissions in college can get registered using their login ID and password. The student will get personalised information about their course and university on the application.
Students will get information on fee structure, Syllabus, application for provisional marksheet, Results will be available, informantion on scholarships & educational loans, provisional marksheet and several other student centric information, informed Pro Vice Chancellor Dr Pramod Yeole.