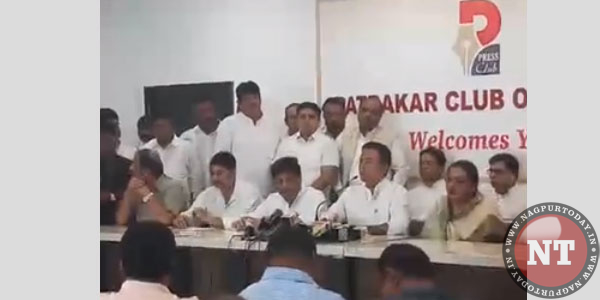 Nagpur: The Indian National Congress, first time after a gap of 70 years, is holding its Working Committee Meeting at Sewagram near Wardha to mark 150th birth anniversary of Mahatma Gandhi on October.
Talking to media persons on the eve of the meeting, the party chief spokesman Randeep Surjewala launched blistering attack on RSS and BJP over various issues. Surjewala said, "The situation prevailing in the entire country today can be summed up as loot, jhoot, batware se mukti ka sangram… Phir se Sewagram."
Surjewala said. "The thinking of Rashtriya Swayamsevak Sangh is on the lines of Pakistan. The BJP Government is similar to British Raj. Like Pakistan which is responsible for partition, violence and terrorism, RSS thinking and ideology exactly the same. The BJP Government and British Raj and the RSS and Pakistan are synonymous to each other. RSS was such an organisation that enslaved itself to British. The basics of this organisation are violence, divide, and hate," he said. However, he added "Congress respects Dr Mohan Bhagwat as elderly person and for his recent statement at 'Future India' programme where he credited Congress for party's contribution in freedom struggle. "This is the truth. All should accept it," he said.
Surjewala further said the party's Sewagram meeting is aimed at liberating the nation from widespread fear, loot, falsehood, and communal disharmony. "The situation today is similar to 71 years ago during British rule. Congress has given Quit India Movement slogan from the soil of Sewagram. The party is again organising the mega meeting for ridding the nation from misrule of Modi Government. Nation is going through very bad phase on social, economical and political front. The Congress meeting on the occasion of 150th anniversary of Mahatma Gandhi therefore holds special significance," he said.
The press conference held at Press Club was also attended by MPCC President Ashok Chavan, Leader of Opposition in Assembly Radhakrishna Vikhe Patil, Congress Secretary Yashomati Thakur, senior leaders Vilas Muttemwar, Vijay Vadettiwar, Sachin Sawant, and MPCC spokesman Atul Londhe.
Mahatma Gandhi's Sewagram Ashram near Wardha will on October 2 see the Congress utilise the 150th birth anniversary of the Father of the Nation to launch an attack on the Narendra Modi regime and the BJP for allegedly dividing society on communal lines for political purposes. The Congress plan is in line with the opposition party's efforts to portray the ruling BJP dispensation as a practitioner of the politics of hate.The Congress Working Committee, headed by party chief Rahul Gandhi, will have a meeting at the Sewagram Ashram, and pass a resolution emphasising the need to follow Mahatma Gandhi's vision of love, peace and brotherhood.
Main points of Surjewala's attack on RSS, BJP:
• Government is looting resources of nation like British used to do. Government is helping bank robbers flee the country.
• Adopting 'divide and rule' policy, the government is dividing the nation on communalism, religion, caste, region, etc.
• Exploitation of Dalits, adivasis, down-trodden is in the DNA of this government.
• Decisions like GST, demonetisation are being taken to antagonise people.
• Few rich people are being favoured. This is best example of crony capitalism.
• Police, ED, CBI are being misused to crush the voice of opposition.
• Prime Minister is defaming country during his foreign tours.
• No one would be a following only by taking name of Mahatma Gandhi. Fight is going on between Gandhi and Godse thinking.
• Gandhi's ideals were based on non-violence while Godse's thinking is on violence.
• Gandhi's struggle was for equality and justice.
Modi Govt is Public Money Loot Govt:
Surjewala said Modi Government is Public Money Loot Government. People were looted of Rs 41,205 crore in Rafale jet deal. "When the deal was struck, only two persons were present – one was Prime Minister Modi and the other France President. One is saying Modi Government forced to give contract to private firm while the other one is keeping silence. What should one derive from this silence? The oldest company of India – HAL – that has manufactured 4060 aircraft was neglected and a private firm having no experience was favoured. The Congress will not move Supreme Court on this issue. The biggest court is people's court. People will decide. People will turn 'silent Modi' into 'talking Modi.'
'Begani Shadi Me Abdulla Diwana:'
Commenting on NCP President Sharad Pawar's defence of Modi on Rafale deal, Surjewala said that NCP itself has clarified it has not defended Modi. Pawar had also raised many questions but no reply is being given. Instead of constituting JPC (Joint Parliamentary Committee) probe, the government is resorting to 'Begani Shadi Me Abdulla Diwana.'
Should we call Modi Raja Harishchandra?
"It is being talked that why Prime Minister is being called a thief. However, when the today's Union Ministers Arun Jaitley and Sushma Swaraj called Dr Manmohan Singh a thief at the time of Bofors scam. Now, when the watchman has been caught with the theft, should we call him Raja Harishchandra," Surjewala countered.