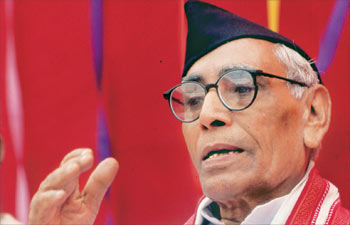 Nagpur News: The Rashtriya Swayamsevak Sangh (RSS) leader M G Vaidya has asserted that the Gujarat Chief Minister Narendra Modi has not given any wrong statement by calling himself a Hindu Rashtrawadi (Nationalist). "There is a lot of difference between Rashtrawadi and Rajyawadi. His statement is 100 per cent correct," Vaidya said.
"The statement of Narendra Modi that we are human beings and he is pained even when a puppy is crushed to death under a car, should be limited to just comparing. The statement should not be stretched too far. When he is pained by the death of an animal and so is also pained by the death of a human being. What is wrong in the statement, Vaidya added.
"Those persons who are comparing the puppy with deaths in Godhra violence are illiterate and small status persons. The Supreme Court constituted SIT has given Narendra Madi a clean chit. The Congress party has turned a habitual party by criticizing Modi everyday or the other. The political parties have not missed a single opportunity to express their opinions against the Gujarat Chief Minister. However, Modi is correct or wrong would be decided by the intelligent voters," Vaidya stated.