RSS is like Muslim Brotherhood: Rahul in London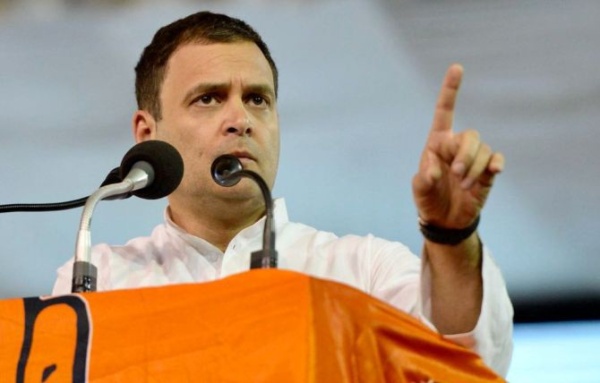 Congress president Rahul Gandhi on Friday likened the Rashtriya Swayamsevak Sangh to the Islamist group Muslim Brotherhood in the Arab world and alleged that the outfit is trying to 'change' the nature of India and 'capture' its institutions.
The Muslim Brotherhood is the oldest political Islamist group in the Arab world. It is not allowed to operate as an official political party in some Arab countries.
Addressing the International Institute of Strategic Studies in London, Gandhi accused the RSS of trying to change the nature of India and capture India's institutions.
"The RSS is trying to change the nature of India. Other parties haven't tried to capture India's institutions.
"The RSS' idea is similar to the idea of Muslim Brotherhood in the Arab world," Gandhi told the audience at the London-based think-tank.
He also criticised the demonetisation of the Modi government banning the Rs 500 and Rs 1,000 bank notes.
The demonetisation was announced on November 8, 2016.
"The idea of demonetisation came directly from the Rashtriya Swayamsewak Sangh (RSS), bypassed the Finance Minister and the Reserve Bank of India (RBI), and was planted in Prime Minister's head," the Congress president said.
Modi had claimed that the demonetisation would help curtail the shadow economy and crack down on the use of illicit and counterfeit cash to fund illegal activity and terrorism.
Gandhi said India's economic power lies in millions of Micro, Small and Medium Enterprises as they create jobs.
"When one bypasses the entire institutional structure and decides to demonetise the nation, that is not maximising India's power," he said.
Gandhi also said that Modi does not have a 'deeply thought-out strategy' on Pakistan, but acknowledged that it was 'very difficult' to converse with Islamabad as there is no single institution there that holds supremacy.
Gandhi, who is on a two-day visit to United Kingdom, talked about Indo-Pak relations which nosedived following a spate of terror attacks on Indian military bases by Pakistan-based terror groups since January 2016.
India has made it clear that it will not hold dialogue with Pakistan as terrorism and talks cannot go hand-in-hand.
Gandhi said that 'there is no deeply thought-out strategy by Prime Minister Modi when it comes to Pakistan'.
He also said that it was very difficult to deal with Pakistan.
Pakistan's powerful military has ruled the country for nearly half of its history since independence in 1947.
Gandhi said: "It's very difficult to converse with Pakistan because there is no one institution that holds supremacy."
"So we wait until they come to form a cohesive structure," he said at the London-based think-tank, apparently referring to the new government in Pakistan led by Prime Minister Imran Khan.
In a letter to Khan on August 18, the day he was sworn in as Pakistan's 22nd prime minister, Modi expressed India's resolve to build good neighbourly relations between the two countries.
On July 30, Modi telephoned Khan to congratulate him on his Pakistan Tehreek-e-Insaaf party's victory in the general elections and expressed hope that both countries will work to open a new chapter in bilateral ties.
Gandhi also said the 21st century should be defined by Mahatma Gandhi's message of compassion and non-violence.
The Congress president, who is the first foreign leader of Opposition to be invited to speak at the Grand Committee Room of the UK Parliament, said that India and the UK are connected as they fight people on ideas.
The other prominent speakers who have spoken at the Grand Committee Room in the House of Commons are Tibetan spiritual leader the Dalai Lama, former South African president Nelson Mandela and former president of erstwhile Soviet Union Mikhail Gorbachev.
"What connects India and the UK is that we fight people on ideas… in the 21st century, the greatest idea is compassion and non-violence as laid out by my hero Mahatma Gandhi," he told an audience of parliamentarians and local political leaders.
"Even though the British ruled us, they left us with many ideas and some strengths as well," he said.
He also hailed the Indian-origin politicians that are part of the British political establishment.
"It is rooms like this from where Britain governed India… and many Indian people are today helping run Britain. How far the world has come," he said at the event titled 'India and the World' attended by senior Opposition Labour party MPs Keith Vaz, Virendra Sharma and Seema Malhotra.