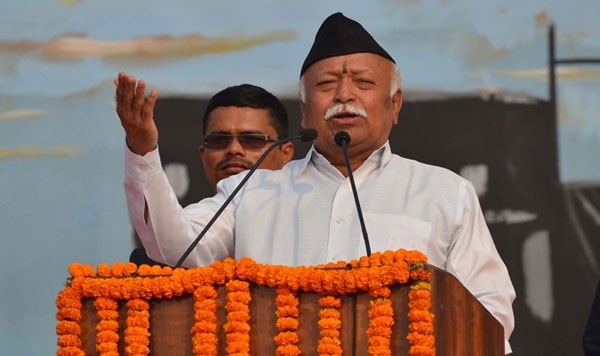 RSS chief Mohan Bhagwat on Fridayy urged the Hindu community to unite and work for the betterment of the mankind. Addressing teh second World Hindu Congress in Chicago, Bhagwat said even though the Hindu society has the largest number of meritorious persons, they have never come together. "Coming together of Hindus in itself is a difficult thing," Bhagwat said in his inaugural address to the conference inspired by the Hindu principle 'Sumantrite Suvikrante' or 'Think Collectively, Achieve Valiantly'.
He said that the Hindus ad been suffering for thousands of years because they forgot to practice its basic principles and spiritualism.
"We have to come together," Bhagwat said, noting that all the people need not to register under one umbrella.
"We have to learn to work together separately," he said.
The Hindu society will progress and prosper only when it will work as a society. Some organisations, or parties working alone will not suffice, Bhagwat said, calling for bringing the spirit of teamwork towards the common goal of betterment of the mankind.
The second World Hindu Congress marks the commemoration of the 125th anniversary of Swami Vivekananda's historic speech at the Parliament of the World's Religions in 1893 in Chicago, said Abhaya Asthana, coordinator of the event.
"As a Hindu, it pains me deeply to see how half knowledge and ignorance are trying to destroy the oldest religion of the world," said actor Anupam Kher.
Among those who addressed the gathering were Illinois Lt Gov Evelyn Sanguinetti, S P Kothari, chairperson, organizing committee of the World Hindu Congress, Ashwin Adhin, vice president of Suriname and Raju Reddy, vice-chair the WHC.
Kothari categorically rejected allegations levelled by opponents of the event that the participants of the Congress have divisive agenda.
"They have lack of complete understanding of the World Hindu Congress," the top MIT professor said.
Participants observed a minute of silence in honour of former Indian prime minister Atal Bihari Vajpayee and author V S Naipaul, who died recently.