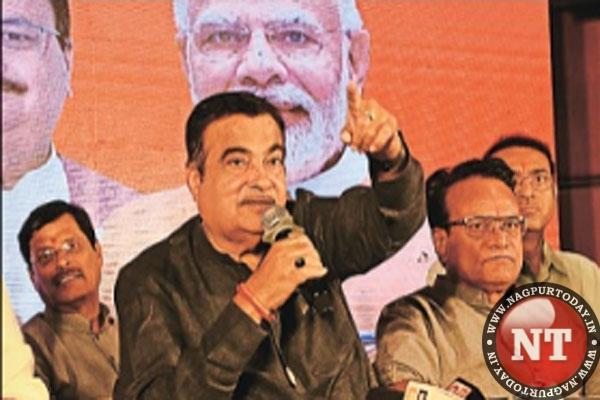 Nagpur: Announcing a mega project for the region, Union Minister Nitin Gadkari said on Sunday that Mother Dairy would set up its manufacturing base in Nagpur. An entire range of dairy products will be prepared in the Rs 400 crore project to come up on a 10 hectare land that would be provided to the organisation, he said.
The Union Minister was interacting with media persons on Sunday to highlight nine years of Narendra Modi led Bharatiya Janata Party (BJP) rule at the Centre. Informing about the benefit it would bring to Vidarbha, Gadkari said, right now about 3 lakh litres of milk is collected from Vidarbha and, once the plant starts functioning, the milk collection would rise to 30 lakh litres. The farmers in Vidarbha would get the right price for their milk, which would make cattle-rearing profitable for them.
Gadkari said that as per the plan, the Mother Dairy plant to be set-up at Nagpur would cater to markets of entire Central India and also Southern India. At the outset, he said that barring the rule of Atal Behari Vajpayee and that of Janata Party Government, Congress Party was in power for nearly 60-years, from panchayats to Centre, and if a comparison is made with the nine-year rule of Prime Minister Modi-led BJP, the change is visible on every front.
Reiterating commitment to welfare of common man, Gadkari said the start is being made by patronising local artisans and for that the shops at Telankhedi complex would be allotted to them on priority. For example, Nagpur was well-known for its handicrafts, particularly the sarees prepared on handloom are quite famous. So the need today is to provide a market to artisans and for the same a shop in Telankhedi complex built by Maharashtra Metro Rail Corporation Limited (MMRCL) would be allocated to them.
Same is true about products prepared at Anandvan and also the pottery makers and other such traditional artefacts from the interior parts of Vidarbha. The traditional tender process of inviting parties to bid for shops is being done away with. The artisans can also create jobs that would stimulate the economy that is proceeding in the right direction and on target for $5 trillion.
To a question about jobs, Gadkari said they are of two types, employment and self-employment, as the Government worked simultaneously on either front, and the results are visible in the country. The Mudra Yojana was a step in the right direction, as it channelised ideas and promoted entrepreneurship.
BJP's local leaders including Pravin Datke, President, Nagpur City Unit, Arvind Gajbhiye, President, Nagpur Rural Unit, MLAs Krishna Khopde, Mohan Mate and Vikas Kumbhare, along with others were also present during the media interaction.